Unit4's Financial Planning and Analysis (formerly Prevero) is a planning and budgeting application designed for the requirements of midsize corporations and the public sector. These organizations are challenged in buying software because they have almost all the requirements of larger enterprises but have a smaller budget and limited technical resources.
Unit4 recently announced it has added Solution Builder functionality to enable finance teams to quickly respond to new business needs and requirements. It also enhanced its dashboarding and visualization capabilities to speed report creation for non-finance users, designed to enable them to translate data into actionable insights and data-driven decision-making.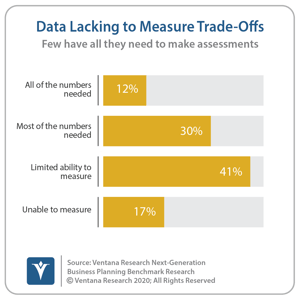 Finance departments need the capability to quickly build and iterate financial scenarios to deal with the challenges of having to rapidly adapt to changing circumstances. The weekly or even daily changes to forecasts during the pandemic made it clear to FP&A groups that they must have the ability to evaluate multiple scenarios and their impacts to provide executives and decision makers with sets of data-driven options. Yet our Business Planning Benchmark Research found that only 12% of organizations have all the numbers they need to measure trade-offs. Even in a more steady-state environment, this ability is essential to enable good managers to make better decisions more consistently.
Unit4 software is focused on the requirements of midsize people-centric services organizations such as public sector, professional services, non-profit and higher education. It is designed to help these organizations improve the performance of finance and accounting departments. Our Office of Finance Benchmark Research shows that finance departments in midsize organizations rely on spreadsheets to a greater degree than larger enterprises. That research also found that use of spreadsheets are behind a significant performance gap: 64% of companies that use a dedicated planning and budgeting application have a process that works very well compared to 36% that use spreadsheets.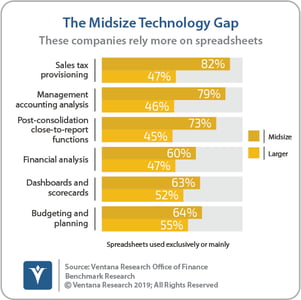 Unit4 Financial Planning and Analysis is designed to be an alternative to spreadsheets, offering a user interface and user experience similar to the familiar spreadsheet while addressing spreadsheet shortcomings: In particular, a central database that instantly consolidates changes made by budget contributors, a multidimensional data structure that supports business intelligence capabilities once available only to large corporations, plus dashboards and automated reporting that provide insight and visibility to decision makers. The software is designed to extend capabilities in performance management, planning, budgeting and forecasting; financial consolidation; reporting, visualization and analytics.
Unit4 also added Solution Builder to enhance modeling capabilities that enable finance teams to quickly reflect changes in the market environment, evolving business models and changing economic scenarios. The ability to iterate forecasts and plans rapidly makes it possible for business users and FP&A groups to quickly assess potential outcomes under different scenarios, and then quickly create reports and visualizations that compare outcomes under different scenarios.
FP&A teams can play a more strategic role in organizations by making budgeting, planning, forecasting and analysis a more valuable management tool. Unfortunately, they are often prevented from doing so because they lack the tools that can allow them to spend less time on the mechanics of these processes ̶ such as assembling data and consolidating spreadsheets ̶ and more time for more strategically important analysis and contingency planning. Despite the best intentions, finance groups – especially those in education, non-profits and government – undermine their ability to provide valuable guidance to the rest of their organization because they rely on outmoded technology. Nine in 10 executives say their finance organization should be a strategic partner to their company, but by 2025 fewer than one-third will evolve into this role, limiting their company's performance.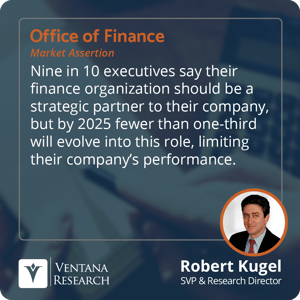 It is essential for finance groups to have the right systems and tools to streamline forecasting, planning and budgeting, providing deeper insight and actionable guidance to business users that enables data-driven decision-making. I recommend that organizations seeking enhanced efficiency in executing basic forecasting and reporting tasks or looking for ways to play a more strategic role investigate dedicated software to replace existing, cumbersome technology. Dedicated software helps organizations create and manage a more effective – and more collaborative – process, and enables frequent short-planning cycles to better deal with business volatility and achieve greater agility. Organizations should assess Unit4 Financial Planning and Analysis for that role.
Regards,
Robert Kugel