Vendavo is a vendor of business-to-business (B2B) price and revenue optimization software, which I have written about. A major focus of the conference sessions this year at the company's annual user group meeting was on practical approaches to successful price optimization initiatives. While this category of software has been achieving increasing acceptance, penetration is still limited in the B2B segment, which includes, for example, industrial goods and services.
One reason for the slower uptake in B2B companies is that adoption has been hampered by the need to simultaneously address people, process and data issues that cross organizational silos. By contrast, the transportation and hospitality industries required fewer organizational changes to implement revenue management. In particular, it's usually necessary to effect change management. This effort aims to bring together several groups within a company (typically some combination of sales, finance, senior executives and operations) to agree on adopting an optimization strategy and developing ways for it to be put into practice. Companies also must be able to manage the process effectively on a daily basis through executive buy-in, ongoing training and having an organizational structure to support a sustained price optimization strategy. And having the right data to be able to price more successfully usually requires a substantial up-front effort and a well-defined ongoing process to ensure the data is clean and relevant.
Analytics applied to the data is another important tool, but in general our Office of Finance benchmark research finds that relatively few companies have implemented advanced analytics to manage profitability. Overall, only 29 percent of companies employ analytics for product profitability, 26 percent for customer profitability and just 15 percent for price optimization.
The Vendavo conference sessions featured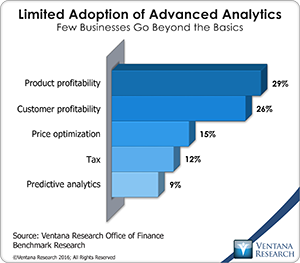 companies that have been able to address these issues. Its software is designed to support an iterative approach to pricing that begins with analyzing prices and the pricing environment, uses the analyses to decide the optimal set of actions and trade-offs to make and then supports execution of these decisions. Since "optimal" choices typically have short life spans in business-to-business dealings, pricing decisions must be reviewed on a regular basis and adapted to changing market conditions.
Vendavo's suite of software manages the iterative pricing process. Its Profit Analyzer application assesses customer and product profitability over time. It is designed to identify the factors that have the greatest impact on profitability (particularly the sources of margin leakage) that managers can address to enhance profit margins while supporting revenue objectives. Customer segmentation is critical to price optimization because not all customers value products and constituent components (such as shipping or adjunct services) equally. Identifying these segments and using that knowledge in price setting and negotiations is crucial to boost profitability.
Price Manager facilities the creation and updating of price lists and pricing policies based on the optimization analysis and is especially helpful in evaluating the impacts of potential changes on prices and terms. It's designed to eliminate the substantial amount of time companies typically waste when they manage the process in spreadsheets. It also supports greater consistency in pricing decisions across a company, which by itself can improve margins. Price Optimization Manager along with Deal Guide and Deal Manager uses the intelligence created in the system to provide sales organizations with optimized target prices and consistent, data-driven pricing guidance to enable them to negotiate more effectively.
In addition, Vendavo's Business Risk Alerts uses predictive analytics to monitor business conditions and identify at-risk customers. Given the cost of acquiring customers, especially in recurring revenue or subscription businesses, a "defector detector" that spots unhappy customers can boost profit margins.
The market for price and revenue optimization software in the B2B segment appears to be arriving at an inflection point as the number of customers increase and demonstrate their ability to apply the technology commercially. That it has taken this long is only partly the result of the slow maturation of the technology. It has taken time for software vendors to move beyond merely offering pricing algorithms and make it easier to apply the results of advanced analytics in relevant everyday business activities, such as facilitating its use by deal desks and streamlining market segmentation efforts. Greater emphasis on price and revenue optimization as a management strategy by strategic consultants would help expand demand at a faster pace. Change management initiatives, especially those that require cross-functional collaboration, are most successful when driven by senior executives. In many cases strategy consultants can be more effective in making the case for implementing price and revenue optimization than software companies or internal managers.
I recommend that all companies investigate how they can use price and revenue optimization in their business. Especially in slow growth economies, this can be a winning strategy. Vendavo is one of the vendors that they should evaluate in this process.
Regards,
Robert Kugel
Senior Vice President Research
Follow Me on Twitter @rdkugelVR and
Connect with me on LinkedIn.