PROS Holdings is a software vendor with two distinct but related sets of products. The company began in 1985 offering revenue management software to airlines, hospitality and rental car companies. More recently it added price and revenue management software focusing on B2B services, chemicals and energy, consumer goods manufacturers, food and beverage, healthcare, insurance and technology. This note focuses on the B2B portion of the business.
PROS's software suite (PricingPRO, SellingPRO and RevenuePRO) is designed to enhance the effectiveness of sales organizations by giving sales agents better guidance in creating and presenting offers – better in the sense that data-driven pricing can provide the right incentives to enable the agent to limit discounting and margin leakage. Better, too, because it provides the agent with cross-sell and upsell opportunities such as complementary goods or services and bundled offerings purchased by similar customers. This guidance can lead to increased revenue and better margins than might be expected without it.
Although PROS software is purchased and used by sales organizations, managing profitability really should be a strategic priority for the C-suite, and especially for CFOs. Yet only a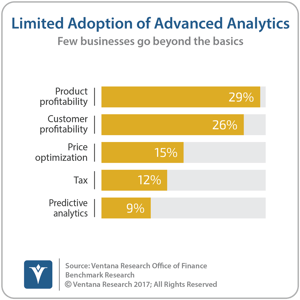 minority of finance organizations engage in routine profitability analysis. As our Office of Finance benchmark research shows, only 29 percent of companies routinely assess product profitability and just one-quarter (26%) said they analyze customer profitability. Only 15 percent of organizations reported applying price optimization of any sort. This lack of focus on the specific profitability of products and customers as part of the "the numbers" that organizations use in their management reviews also has impeded the adoption of price and revenue management techniques. Limited measurement is partly a reflection of a lack of clear ownership of profitability in companies; often, people have responsibility for revenue and for cost management but not for the net result.
Modern Commerce
PROS's strategy isn't focused narrowly on pricing itself. It says it seeks to provide software that addresses the requirements of "modern commerce." This is a term that PROS and others use to describe a strategy of reducing the time and effort needed to complete a transaction satisfactorily for both the buyer and the seller. Reducing the friction in buying and selling goods and services improves efficiency on both sides of the transaction. Smartphone apps have become very popular with consumers and businesses that sell to them precisely because they are a way to reduce transactional friction. In B2B transactions, modern commerce relies heavily on harnessing big data and analytics to improve the efficiency and quality of the sales process for both buyers and sellers.
Modern commerce uses ease of doing business to improve the customer's experience and, in so doing, potentially create an advantage against competitors that are slow to adopt technology. The pillars of frictionless buying include a personalized buying experience that is fast (in other words, the buyer gets what he or she needs immediately or nearly so) as well as responsive (that is, tailored to the individual buyer's needs and preferences). It's easy to see these principles at work today in B2C commerce. Frictionless buying will be a growing requirement in industrial sales in coming years.
B2B commerce has its own challenges because these transactions are fundamentally different from the consumer type. For one, they almost always involve agents on both sides of the transaction, sales organizations and purchasing departments. Agents require some level of supervision and control to ensure they act in the best interests of owners and executives. In modern commerce, pricing and revenue management software boosts the efficiency of agents through process automation and data management. It also uses technology to enhance sales agents' effectiveness by, for example, shortening the time it takes to present a valid quote to the customer that's acceptable to the selling company.
B2B pricing software is distinct from the revenue management process used by travel and hospitality companies in two key ways. First, the price-setting process for airlines and hotels is agentless. While a majority of these transactions are done on the web, even if an agent is involved, he or she has no discretion and is quoting the price directly from the reservation system. In contrast, much of B2B commerce is handled by sales agents who have some degree of pricing latitude, which requires controls to ensure that agents stay within limits. B2B pricing software provides guidance to sales agents to ensure that they price within guidelines and automates the review necessary to approve a quote. Prices that involve little or no discount may be approved without review while those offering significant discounts may require several levels of sign-offs.
A second significant difference is that carrier and hotel revenue management is integrated with the transaction process via the reservation system. Having pricing algorithms and historical data helps set prices intelligently but experience has shown that to be effective, pricing guidance must be embedded in the sales process rather than a discrete function. B2B price and revenue management wasn't practical until algorithmically driven dynamic price setting was incorporated into configure, price and quote (CPQ) software.
Software to Support Intelligent Pricing
CPQ software first appeared in the 1990s to enable companies to reduce the time it took their salespeople to create a workable contract proposal. It initially targeted corporations that offered products made from multiple major components. For example, buyers of Class 8 trucks typically can select from a list of specific engines, transmissions and suspension. Buyers can choose different configurations of these options but not all of them work together. CPQ software was designed to allow sales agents to create only valid configurations and pull pricing data from a common, up-to-date database to create a quote for the buyer. CPQ engines initially were designed to handle highly complex configurations and return a valid quote quickly. Over the years, CPQ offerings have multiplied, aiming at the specific business needs of buying segments (for instance, web-based configurators for B2C self-service transactions).
One form of evolution of CPQ software is what Ventana Research calls Dynamic CPQ. PROS's applications use this approach, promoting sales efficiency by, among other things, speeding the creation and pricing of even moderately complex product or service bundles. Speed in responding to a prospective customer's inquiry often is a competitive advantage. Quoting also is more effective because the software dynamically sets pricing based on the characteristics of the buyer and past interactions. It does this by using big data analytics or other methods to predict the price sensitivity (or elasticity) of the buyer and establish pricing parameters for sales agents. The software also is designed to reduce margin leakage by ensuring that only the right customers are offered free ancillary services such as preparation charges or shipping. It also can help configure an order by suggesting complementary products and services that buyers typically need with the main item. The reduction in margin leakage and the sales of complementary items – usually without a discount – is designed to result in higher revenue and profitability.
The software also can be configured to shorten the time required to present a quote while minimizing discounting. This can be achieved by automatically bypassing a deal desk (which reviews and approves pricing, terms and conditions) if the pricing and other parameters of a proposed transaction are deemed by sales management to make a review unnecessary. A dynamic CPQ system will set pricing parameters more effectively than a CPQ system with static pricing bands because the parameters are determined based on the specific characteristics of the buyer and the transaction.
Using historical data and predictive analytics, PROS software also alerts sales agents about negative trends in their accounts. Caught in time, a declining average purchase size or decline in purchase frequency can be addressed to avoid losing business. At the same time, saying no to a prospective customer is important. Less desirable customers include infrequent buyers that are trying to shop a bid. PROS software gives salespeople the knowledge to enable them to waste less time on long-shots or less profitable business.
Overcoming Price and Revenue Management Challenges
Price and revenue management software for B2B transactions has been around for more than a decade but its adoption was patchy until a few years ago. Three issues slowed its adoption. One was that pricing software wasn't adequately integrated into the sales process – an issue that vendors like PROS have addressed by integrating it into CPQ software. Data has been a second issue because a sufficient quantity of accurate data is required to properly segment buyers and deals according to their price sensitivity. Methods to streamline historical data gathering and to facilitate ongoing data collection have lessened this as an issue. A third deterrent to adoption was long and therefore costly implementations. Software vendors and implementation partners have improved configurations to minimize the time and effort necessary to achieve satisfactory results.
PROS has focused on developing "small bite" offerings that are relatively fast to implement and that can demonstrate positive results quickly. This limits the size and risk of the initial purchase, reducing the barrier to adopting dynamic pricing. If successful, the smaller-scale initial project can lead to deeper and broader follow-on efforts. The slow adoption of pricing software is a problem that fed on itself. Until there were a sufficient number of successful companies that could attest to the cost-effectiveness of the software in a wide range of industries, the lack of successful reference customers inhibited sales.
Market Challenges
In the B2B part of its business, PROS faces stiff competition from the status quo: manual or semi-automated sales processes supported by spreadsheets. Our Sales Analytics benchmark research reinforces our view that a reliance on spreadsheets can have a negative impact on organizations' ability to manage the sales process. Although 73 percent said they use spreadsheets universally or regularly for sales analytics, nearly two-thirds (63%) of participants said that spreadsheets make it difficult to manage sales effectively. Despite the shortcomings of spreadsheets and manual processes, until recently price and revenue management software required more effort and risk than most potential buyers were willing to bear. But as the design and performance of this type of software has improved and as more companies in a broadening array of industries are demonstrating its value, demand has been growing for a dedicated approach.
Investigate Software for Better Pricing Management
The bar for effective sales management has been rising steadily over the past decade. The tools available to sales executives have improved and the best performing organizations have demonstrated their value. Price and revenue management software can enable companies to achieve some combination of higher sales and greater profitability. It is a necessary tool for sales management in a modern commerce environment. I recommend that B2B companies examine how price and revenue management software can enhance their sales effectiveness today and how it can support their long-term sales strategies. I recommend that they evaluate PROS software as part of that effort.
Regards,
Robert Kugel
SVP & Research Director