The annual Ventana Research Digital Innovation Awards showcase advances in the productivity and potential of business applications, as well as technology that contributes significantly to the improved processes and performance of an organization. Our goal is to recognize technology and vendors that have introduced noteworthy digital innovations to advance business and IT.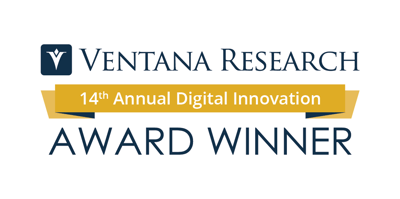 Ventana Research has awarded Zuora Collect AI its prestigious 2021 Office of Finance Digital Innovation Award. This award is given to the vendor that best exemplifies innovation and change for the Office of Finance, supporting an organization's ability to maximize its people, processes, information and technology. All finalists in the areas of Office of Finance expertise were considered for this award.
The demand for more artificial intelligence-enabled approaches to repetitive tasks has rapidly become a priority for every organization. The technology enables organizations to streamline processes and reduce errors, freeing up time to focus on resolving exceptions and working more intelligently to improve customer experience. Ventana Research offers fact-based strategic advisory services to the Office of Finance that are designed to resolve process and people issues by addressing the underlying defects in technology (software) and information (data). Through its understanding of the vendor landscape and technology trends, Ventana Research enables its clients to maximize technology investments for every aspect of the finance and accounting department.
Ventana Research selected Zuora for the 14th Annual Office of Finance Digital Innovation Award for its Zuora Collect AI, which is designed to increase a company's first-time payment success. Zuora Collect AI supports a better customer experience by avoiding dunning, as the application maximizes successful collections by providing customers with the flexibility to use different payment methods for multiple subscriptions. The software also offers AI-driven payment retry schedules, since these can lead to higher payment recoveries.
Subscription and other recurring revenue business models are increasingly being adopted by companies because buyers and sellers alike find value in them as an alternative to a one-time transaction. Finance and accounting departments have found that subscriptions pose a set of challenges that can significantly increase workloads and risk in billing processes. Zuora offers software that addresses a broad set of subscription management and billing requirements for these companies. If your organization uses a subscription or recurring revenue model for all or part of its business, I suggest you examine how Zuora Collect AI can work for you. Congratulations, Zuora, for your continued innovation.
Regards,
Robert Kugel