Our benchmark research on next-generation business planning finds that a large majority of companies rely on spreadsheets to manage planning processes. For example, four out of five use them for supply chain planning, and about two-thirds for budgeting and sales forecasting. Spreadsheets are the default choice for modeling and planning because they are flexible. They adapt to the needs of different parts of any type of business.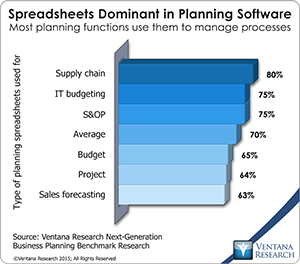 Unfortunately, they have inherent defects that make them problematic when used in collaborative, repetitive enterprise processes such as planning and budgeting. While it's easy to create a model, it can quickly become a barrier to more integrated planning across the business units in an enterprise. As I've noted before, software vendors and IT departments have been trying – mainly in vain – to get users to switch from spreadsheets to a variety of dedicated applications. They've failed to make much of a dent because although these applications have substantial advantages over spreadsheets when used in repetitive, collaborative enterprise tasks, these advantages are mainly realized after the model, process or report is put to use in the "production" phase (to borrow an IT term).
Host Analytics Modeling Cloud is designed to address the needs of people who – often working alone – create representations of the business or portions of the business used in a collaborative planning process. These individuals often create analyses and reports that complement the planning process. To date most dedicated applications have been far more difficult than spreadsheets for the average business user to use in the design and test phases. To convince people to switch to its dedicated application, a vendor must offer an alternative that lets users model, create reports, collect data and create dedicated data stores as easily as they can do it in a desktop spreadsheet.
Modeling Cloud is designed to integrate individual businesses unit plans with a company's financial planning, forecasting and budgeting. It attempts to address the spreadsheet problem by enabling individuals in business units to create and update plans and budgets and their underlying models in a way that is consistent with what they are used to doing, but also makes it easy to tie these together to achieve an integrated company-wide view. Compared to desktop spreadsheets, this approach better enables a company to analyze and refine plans and budgets. It also facilitates advanced modeling capabilities such as rolling quarters forecasting and contingency and what-if planning. Compared to desktop spreadsheets, with Modeling Cloud it's much easier to consolidate the plans from multiple contributors and then drill back down into individual plans and their underlying assumptions. The software also has mobile features that enable individuals to review, contribute and approve plans and budgets on the go. Each of these capabilities increase the business value of the company's planning and budgeting.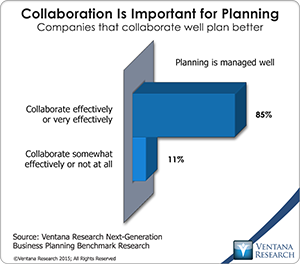 People and businesses plan in order to be successful. Companies do a lot of planning – some formal and some informal – about all aspects of the business including sales, production, headcount, distribution and the supply chain. Done properly, planning is the best way to get everyone organized in executing the plan. At that point they can take advantage of collaboration, which is essential to effective planning and budgeting. Our research finds that in the large majority (85%) of companies that collaborate well in their planning and budgeting processes participants regard it as well managed. Dedicated applications work better than desktop spreadsheets when it comes to bringing individual models, plans, budgets and forecasts into an integrated companywide view. In contrast it's difficult and time-consuming to combine desktop spreadsheets into a consolidated view, and it's even harder and more tedious to look back into the underlying data in seeking a better understanding of important differences between individual plans and models.
Modeling Cloud is designed to address an important need in corporate planning – closely tying all aspects of business planning to financial planning and budgeting and helping organizations collaborate across business silos. Our research shows that integrated planning works better, as I have written : Two-thirds of companies in which information in individual plans is directly linked have a planning process that works well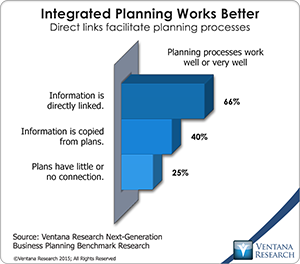 or very well, compared to 40 percent in which the information must be copied and only 25 percent where there is little or no connection. As a rule, providing users with a familiar environment in which to create business models, create and compare different business scenarios, analyze actuals and create reports goes a long way toward mitigating the difficulty of having to learn to use a new tool that has been a barrier to the use of dedicated planning software across an enterprise and makes it easy to directly link plans. Business planning can be more effective if individuals have software that gives them a high degree of flexibility to create models and plans in a way that works comfortably for them yet also facilitates the integration of everyone's plans into a consolidated view. Our research shows that dedicated planning applications can help users align their plans with strategy and the rest of the organization. For example, companies that use them said twice as often that they are able to estimate accurately one plan's impact on others as those that use spreadsheets. In addition, two out of three that have dedicated applications said they are satisfied with their planning process and that their plans are accurate.
Information technology has the potential to make business planning more useful, as I have noted, enabling it to improve a company's performance and increase its competitiveness. One of the necessary tools for more fully integrating business and financial planning is a software and data environment that enables business people to plan their part of the business in a way that is familiar, productive and useful to them in achieving their objectives. That environment also must enable them to communicate the financial consequences of their business plan to inform the financial forecasting, planning, budgeting and review processes. Host Analytics Modeling Cloud is designed to do that. It's not a perfect substitute for spreadsheets, which still excel in their ability to help people quickly translate their thoughts into models and reports. But because Modeling Cloud eliminates most of the hassles and defects of spreadsheets (for example, the ability to quickly store, retrieve and consolidate data from a single authoritative source), it is ultimately a much more attractive alternative. I recommend that Host Analytics customers assess using Modeling Cloud in their organization and that buyers of dedicated planning applications include this type of capability in their evaluation of vendors' offerings.
Regards,
Robert Kugel – SVP Research