Ventana Research recently released the results of our Next-Generation Business Planning benchmark research. Business planning encompasses all of the forward-looking activities in which companies routinely engage. The research examined 11 of the most common types of enterprise planning: capital, demand, marketing, project, sales and operations, strategic, supply chain and workforce planning, as well as sales forecasting and corporate and IT budgeting. We also aggregated the results to draw general conclusions.
Planning is the process of creating a detailed formulation of a program of action designed to achieve objectives. People and businesses plan to determine how to succeed in achieving those objectives. Planning also serves to structure the discussion about those objectives and the resources and tactics needed to achieve them. A well-managed planning process should be structured in that it sets measurable objectives and quantifies resources required to achieve them. Budgeting is a type of planning but somewhat different in that is financially focused and is done to impose controls that prevent a company from overspending and therefore failing financially. So while planning and budgeting are similar (and budgeting involves planning), they have different aims. Unlike budgeting, planning emphasizes the things that the various parts of the business focus on, such as units sold, sales calls made, the number and types of employees required or customers served.
Integrating the various business planning activities across a company benefits the senior leadership team, as I have written by enabling them to understand both the operational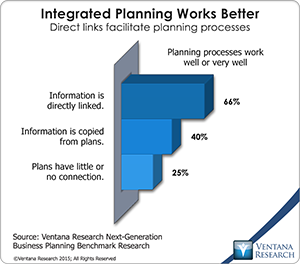 and the financial consequences of their actions. There are multiple planning efforts under way at any time in a company. These plans typically are stand-alone efforts only indirectly linked to others. To be most effective, however, an individual business unit plan requires direct inputs from other planning efforts. A decade ago I coined the term "integrated business planning" to emphasize the need to use technology to better coordinate the multiple planning efforts of the individual parts of the company. There are good reasons to do this, one of which is accuracy. Our new research reveals that to be accurate, most (77%) planning processes depend to some degree on having access to accurate and timely data from other parts of the organization. For this reason, integrating the various planning processes produces business benefits: In our research two-thirds of companies in which plans are directly linked said that their planning process works well or very well. This compares favorably to 40 percent in those that copy planning data from individual plans to an integrated plan (such as the company budget) and just 25 percent of those that have little or no connection between plans.
Technology has been a major barrier preventing companies from integrating their planning efforts. Until relatively recently, joining the individual detailed plans of various departments and functions into an overall view was difficult because the available software, data and network capabilities were not sufficient to make it feasible and attractive to take this approach. To be sure, over the past decades there has been steady progress in making enterprise systems more accessible to ordinary users. But while dedicated planning software has become easier to use, evidently it's still not easy enough. The research reveals that across the spectrum of corporate planning activities, three-fourths of organizations use spreadsheets to manage the process. We expect this to change over the next several years as the evolution in information technologies makes dedicated planning software a more compelling choice. One factor will be enhanced ease of use, which will be evident in at least two respects. Software vendors are recognizing that a better user experience can differentiate their product in a market where features and functions are a commodity. Ease of use also will extend to analytics and reporting, making it easier for business users to harness the power of advanced analytics and providing self-service reporting, including support for mobile devices. The other factor will be the ability to make the planning process far more interactive by utilizing in-memory processing to speed calculations. When even complex planning models with large data sets can be run in seconds or less, senior executives and managers will be able to quickly assess the impact of alternative courses of action in terms of their impact on key operating metrics, not just revenue and income. Having the means to engage in a structured conversation with direct reports will help executives be more effective in implementing strategy and managing their organization.
Technology is not the only barrier to better planning. The research demonstrates the importance of management in the process, correlating how well a planning process is managed with its accuracy. The large majority (80%) of companies that manage a planning process well or very well wind up with a plan that is accurate or very accurate. By contrast, just one-fourth of companies that do an adequate job achieve that degree of accuracy and almost none (5%) of those that do it poorly have accurate or very accurate results. Additionally, managing a planning process well requires clear communications. More than three-fourths (76%) of companies in which strategy and objectives related to plans are communicated very well have a process that works very well, while more than half (53%) with poor executive communication wind up with a planning process that performs poorly. And collaboration is essential to a well-functioning planning process. Most (85%) companies that collaborate effectively or very effectively said that their planning process is managed well, while just 11 percent of companies that collaborate only somewhat effectively expressed that opinion.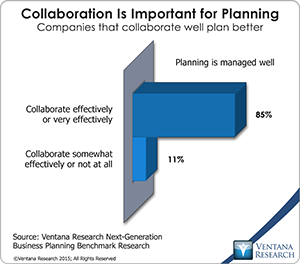 Collaboration is essential because the process of planning in corporations ought to get everyone onto the same page to ensure that activities are coordinated. Companies have multiple objectives for their planning processes. Chief among these is accuracy. But since things don't always go to plan, companies need to have agility in responding to changes in a timely and coordinated fashion. In a small business, planning can be informal because of the ease of communications between all members and the ease with which plans can be modified in response to changing conditions In larger organizations the planning process becomes increasingly difficult because communications become compartmentalized locally and diffused across the entire enterprise. Setting and to a greater degree changing the company's course requires coordination to ensure that the actions of one part of the organization complement (or at least don't impede) the actions of others. Coordination enables understanding of the impact of policies and actions in one part of the company on the rest. Yet only 14 percent of companies are able to accurately measure that impact, and fewer than half (47%) have even a general idea. Integrated business planning address that issue.
In most organizations budgeting and operational planning efforts are only loosely connected. In contrast, next-generation business planning closely integrates unit-level operational plans with financial planning. At the corporate level, it shifts the emphasis from financial budgeting to planning and to performance reviews that integrate operational and financial measures. It uses available information technology to help companies plan faster with less effort while achieving greater accuracy and agility.
For companies to improve competitiveness, their business planning must acquire four characteristics. First, planning must focus on performance, measuring results against both business and financial objectives. Second, it must help executives and managers quickly and intelligently assess all relevant contingencies and trade-offs to support their decisions. Third, it must enable each individual business planning group to work in one central system; this simplifies the integration of their plans into a single view of the company and makes it easy for planners in one part of the business to see what others are projecting. Fourth, it must be efficient in its use of people's time. Success in business stems more from doing than planning. Efficient use of time enables agility, especially in larger organizations.
Today's business planning doesn't completely lack these features, but in practice it falls short – often considerably. Senior executives ought to demand more from the considerable amount of time their organization devotes to creating, reviewing and revising plans. They should have easy access to the full range of plans in their company. They must be able to engage in a structured dialog with direct reports about business plans, contingency plans and business unit performance. Information technology alone will not improve the effectiveness of business planning, but it can facilitate their efforts to realize more value from their planning.
Regards,
Robert Kugel – SVP Research