FinancialForce's 2014 summer release incorporates improvements in mobile and collaboration features and provides enhancements to the planning dimension of its professional services automation (PSA) suite. In the last couple of releases the company emphasized expansion in the functional capabilities of its ERP suite, as I noted, focusing on human capital management and professional services automation as well as some supply chain automation capabilities.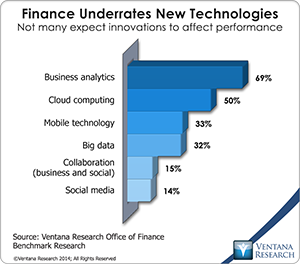 The latest release uses the Salesforce1 platform to extend its mobile capabilities. These are increasingly important to executives and managers for reviewing information and drilling down into data such as orders, invoices and payments to deepen understanding of the information. Mobile access also is useful for approving tasks or requests (such as expense report approvals or process review signoffs) regardless of where the users happen to be. Mobility is especially useful for anyone who is not always sitting at a desk or for connecting customers to the company in a secure and controlled fashion as they place orders or check on the status of their accounts. It is a capability that supports today's "any time anywhere" management practices. However, FinancialForce has its work cut out in convincing finance departments that they need mobility. In our new Office of Finance benchmark research only one-third of participants said that mobile technology will significantly influence their future performance. (Only half have that opinion about cloud computing generally.)
Even fewer finance professionals are interested in technologies that promote and simplify collaboration, which is odd since most finance and accounting processes require collaboration. For that reason, I have argued that applications that support finance departments need a social media capability. Salesforce.com has been enhancing Chatter, its social business application, and FinancialForce has been adapting it to the needs of its target customers. Initially, social applications emphasized their broadcast capabilities, which is suitable for corporate-wide information, but collaboration requires narrow casting – making connections and information available to suit individual needs. This capability prevents people from being deluged with information (which substantially dilutes the collaborative value of a social application) and ensures that sensitive information is shared only with those approved to see it. FinancialForce also is making the actions more context-sensitive, able to understand which role or activity an individual is currently engaged in and which group or colleagues are relevant at that moment.
One important objective in managing a modern professional services organization is to minimize administrative overhead, for example for billing professionals (such as time and expense tracking). Professional services automation software is designed to do that as well as make it easier to manage the process of selling and fulfilling professional services from end to end. PSA also facilitates billing and accounting, ensuring accuracy and speeding up the receipt of funds. The enhancements announced in FinancialForce's recent release aim to improve professional services group's ability to manage staffing.
PSA suites that include resource and capacity planning also make it possible for professional services managers to monitor the availability of people to deliver contracted services. Resource utilization is especially important in determining the effectiveness and profitability of a professional services group. Lean staffing can generate fatter margins, but it can disappoint customers if resources are not available; an inability to optimize professionals' time can quickly generate losses. Training is usually essential for new hires, so they're not immediately profitable and companies are slow to let go of trained individuals when demand is slack. So it's important for executives to have visibility into potential demand for services. Since FinancialForce's PSA software runs on the Salesforce1 platform, professional services managers can look beyond already contracted services. They must be able to monitor potential resource demand (or lack of it) by extrapolating sales funnel data into forward-looking capacity calculations. As deals enter the pipeline, it's possible for a manager to determine whether enough people with the requisite skills are available to fulfill the services demand. Where there is more demand than supply, these organizations can achieve a balance by adding people or determining how best to spread workloads. An important advantage in making these calculations based on the pipeline of business is that it provides necessary lead times to identify and hire the talent needed to meet demand. Not having such forward visibility can produce delays in starting projects because of a lack of resources (creating client satisfaction issues and limiting revenues) or guesswork about hiring needs (potentially diminishing profitability by underutilizing services personnel).
FinancialForce is a cloud-based application, so it's particularly well suited to the needs of companies that have outgrown their small business accounting software packages and can benefit from having the ability to connect sales, marketing and customer service capabilities with their back-office functions. It can help midsize businesses – especially those selling business services – grow while minimizing the need to add administrative staff. Many companies with 50 to 500 employees still use basic accounting packages even though they have outgrown their process management, reporting and analytical capabilities because they hesitate to make the investment in an on-premises accounting package and the resources necessary to support it. Maintaining an existing accounting package might appear the safe choice, but it foregoes the operational and management benefits that more capable software can deliver. Cloud-based software usually entails a smaller upfront commitment and does not require ongoing reliance on staff to support a system. FinancialForce also is well suited for larger companies that have a professional services group with 30 or more employees who bill their time and expenses, especially those who engage in discrete projects. Salesforce.com users of all sizes can find FinancialForce components useful in automatically connecting their Salesforce.com processes with other enterprise systems in a managed and controlled fashion, without having to re-enter data. I recommend that they consider how this vendor's products can help meet their needs.
Regards,
Robert Kugel – SVP Research