Anaplan, a provider of cloud-based business planning software for sales, operations, and finance and administration departments, recently implemented its new Winter '14 Release for customers.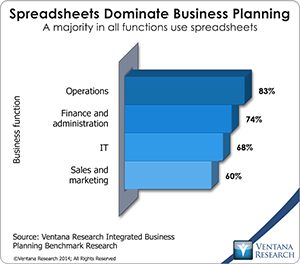 This release builds on my colleagues analysis on their innovation in business modeling and planning in 2013. Anaplan's primary objective is to give companies a workable alternative to spreadsheets for business planning. It is a field in which opportunity exists. Our benchmark research on this topic finds that a majority of companies continue to use spreadsheets for their planning activities. Almost all (83%) operations departments use spreadsheets for their plans, as do 60 percent of sales and marketing units. Yet the same research shows that satisfaction with spreadsheets as a planning tool is considerably lower than satisfaction with dedicated planning applications. But despite general agreement in companies that the planning process is broken and spreadsheets are a problem, companies seem reluctant to break the bad habit of using spreadsheets. This conclusion suggests that either switching to dedicated software hasn't been easy enough or that the results of doing it have not been compelling enough to motivate change. Anaplan intends to address both of these issues.
Anaplan designed its software to support business planning integrated across an enterprise in a practical way that's an attractive alternative to spreadsheets. Its HyperBlock architecture is a hybrid of relational, vertical and OLAP databases with in-memory data storage and calculation. To translate that technology-speak into a plain concept, it's easier than ever for those trained in spreadsheet modeling to transport their skills to a dedicated planning application. Anaplan simplifies the process of creating a planning environment that can be used by sales and marketing, finance, operations – any part of a company. Individual business units can create their plans without IT involvement. Customer companies don't have to move all plans at once to Anaplan, but when they do, integrating all of the plans into a unified company view is straightforward.
The bulk of the changes in the Winter Release are aimed at refining and improving the user experience and facilitating model creation and updates. One of the most obvious changes is in the individual user interface, which opens up with "model tiles" representing each of the plans each individual has in his or her portfolio. It's fairly typical for individuals to participate in multiple planning activities. Our benchmark research on business planning finds that, on average, employees participate in five sets of plans. Each of these may have multiple versions, and some may have subsidiary plans to a main plan. Some plans may be current while others are no longer used and are archived. The new interface makes it easier to organize this collection, making the most important plans readily accessible. This enhancement and others that will follow reflect Anaplan's intent to incorporate ergonomics in the design of its software.
Choosing a model opens a dashboard relevant to the specific role of the user and the plan he or she has selected. Organizations can configure the layout of the dashboard, which provides high-level summarized information and different ways of navigating into and around the details in the plan. Navigation is now role-based to enable users to zero in on only those models and dashboards relevant to their function or role. Anaplan can be configured to drill down to specific items or transactions if necessary. Doing this in a multidimensional model is not always straightforward. An Excel add-in is a must for any planning application because it provides a familiar user interface that enhances productivity while eliminating the disadvantages of desktop spreadsheet, since the individual is working with a formal application and an advanced database environment. Anaplan's Winter Release simplifies installation of the add-in. All of these enhancements go beyond a simple "consumerization" of business software – layering a snappy gloss onto software that remain tedious to use – to provide a more satisfying working environment.
Another notable addition in the Winter Release is "intelligent mapping," a useful way for one person to create templates of components used in a model (say, all of the costs of adding a store, doing a marketing campaign or performing heavy maintenance on capital equipment) that others can use. Since organizations tend to handle most processes in much the same way, the operational and financial aspects of those processes are likely to be modeled in almost exactly the same ways. Being able to quickly copy a useful exemplar and easily customize it to an individual's specific needs saves time. Moreover, making it simple to achieve consistency can improve the effectiveness of planning. Using intelligent mapping needn't be the product of a conscious effort to create a template, either. An equally likely use is when someone looks at a plan created by another business unit and sees some component in that plan that's useful to his or her model. Intelligent mapping makes it easy to copy and modify it to suit the need.
Effective collaborative planning is a structured dialog. Structured because it involves hard numbers and a dialog because it involves a back-and-forth exchange between executives and managers to mediate between the results desired and what's feasible. Toward that end, Anaplan has added a capability in its models it calls a "hold," which fixes one or more values in the model while the rest are adjusted. This simplifies the process of setting month-by-month, line-by-line objectives because it enables executives to impose selective constraints (minimum or maximum values such as sales by a product line or advertising expense) while adjusting assumptions quickly to assess whether the resulting changes are realistic. Fixing and releasing holds iteratively simplifies and shortens the process of assessing specific details to achieve a plan that is workable and agreeable.
For analysts that create or support planning models, the Winter Release adds a floating formula editor. This is a small but important element because it improves the productivity of modelers – typically a constrained resource in most companies.
The new release further advances Anaplan's strategic objective to provide corporations with a tool that reduces the amount of effort needed for collaborative planning in any part of the business and enhance the value of this planning by better aligning business unit objectives with market opportunities. Our planning research finds that companies have many plans but, other than the annual budget, very little of it connected and coordinated. Anaplan focuses on collaborative business planning as a way to differentiate its offering from budgeting tools – a mature market with entrenched competitors. Its objective is supported by the underlying architecture of the software, which is designed to lower the barriers to switching from spreadsheet planning and budgeting as well as generating greater business value from a company's planning processes.
Having said all this, I have to add that making it easier not to use spreadsheets is necessary but insufficient to alter corporate behavior. Companies need a business incentive to change. Anaplan's use of in-memory technology provides that incentive because it adds considerable value to the planning process. Since the software can process even complex models with large data sets in seconds, in-memory computing can change the nature of planning, budgeting, forecasting and reviews. For example, the technology enables organizations to run more simulations during a planning or review session to understand trade-offs and the consequences of specific events. It can change the focus of reviews from what just happened to what to do next. Rather than relying on intuition or simplistic scenarios to make that decision, in-memory systems support structured, numbers-driven conversations to develop the details of a plan. This is the breakthrough to any planning or budgeting process that in-memory processing provides and a good reason for businesses to make the leap to more capable software.
Anaplan's product doesn't do everything. For example, companies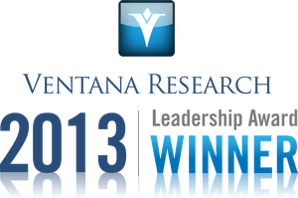 that want all of the rigor that goes with a formal sales and operations planning effort should focus on applications dedicated to this process. And Anaplan doesn't have all of the features that dedicated project planning software can provide. That noted, I recommend that companies that are looking for a dedicated application for general business planning and financial budgeting consider Anaplan. This is especially true if their objective is to have a planning environment usable by all parts of the business that can serve as the integration point for all business planning. We have found their customers have made significant progress to improving the modeling and planning which is why it received the 2013 Ventana Research Leadership Award. If you have not taken a look at Anaplan it is well worth your time.
Regards,
Robert Kugel – SVP Research