Tidemark announced the release of the Fall 2013 version of its eponymous cloud-based application that my colleague assessed earlier in 2013. This new release adds capabilities for labor planning and expense management as well profitability modeling and analysis. These two areas of planning and analysis are common to all businesses. The new release adds features that enhance the software's ability to do sales forecasting, initiative planning and IT department planning. The company continues to refine its modeling capabilities to make it easier for people engaged in the planning process to translate their expectations and concerns into a quantified view of the future. For example, users now can build models using natural-language modeling. The objective is to eliminate the need for help from business analysts or experts trained in the use of a tool and immersed the details of the IT plumbing, such as the metadata used for specific general ledger accounts or operational data.
The Tidemark product fits into our business planning software category. It enables rapid creation and frequent updating of company plans by connecting the individual plans of business units in a unified view. It has workflows to manage periodic updates to an integrated plan and analytics to support the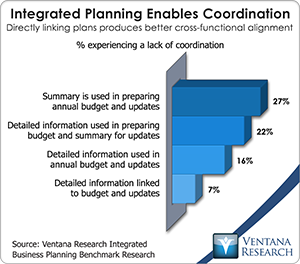 planning and review phases of the process. It offers engaging visualization and reporting functionality that enhances understanding and insight in developing plans as well as communicating results. It has built-in social collaboration capabilities in context because business planning requires collaboration.
Direct integration of individual business unit plans is a key capability of business planning software because it promotes coordination across a corporation. Companies in our research that plan using summarized business data much more often reported a lack of coordination than those that directly link their plan details: 27 percent of those that summarize data experience a lack of coordination in reacting to changing business conditions, compared to just 7 percent of those with direct links. As well, to facilitate planning among today's dispersed organizations, Tidemark's mobile capabilities support sharing plan creation and review on such devices.
One distinctive aspect of dedicated business planning is that it handles the operational and financial aspects of a plan in parallel. Traditionally, a budget-focused planning process conflates the two to produce a financial plan. Financial planning (budgeting) and operational planning have fundamentally different objectives, but they must be connected. Budgeting is about financial control; it's about not failing. Planning aims at finding the best way to succeed. You can't budget effectively without a plan, and you can't plan effectively unless you consider fiscal constraints. But the two shouldn't be homogenized, which is the way almost all companies do planning and budgeting today. Business planning software enables executives and managers to understand both the operational and the financial consequences of their actions, but it emphasizes the things that the various parts of the business focus on, such as units sold, sales calls made, the number and types of employees required or customers served.
The business planning category has emerged in response to the growing sophistication of users, especially as baby boomers are replaced by generations of workers who have more demanding expectations of how software should work. Complementing this trend are improved technologies, which already are having an impact on how companies do business planning and forecasting. The cumulative effect of a decade of advances have brought traditional processes to a turning point that will profoundly change how businesses look to the future and decide their courses of action. Tidemark was founded to produce technology to help organizations increase insight, accountability and agility by addressing the shortcomings of using budgeting as a management tool, especially when it is performed using desktop spreadsheets.
The user experience figures heavily in Tidemark's design. It enable individuals to configure the applications to work the way they want them to in the context of the business, adapting processes, data collection and information presentations to meet the specific requirements of an organization. User interfaces follow this pattern. Collaboration, for example, is set up to understand which individuals the user will interact with in a particular context. As the user moves from task to task, that list will change. This capability is consistent with what I expect to become the norm in social collaboration in enterprise applications.
Tidemark's competitive strategy is to push as much as possible of the planning process out to individual business users. The objective is to collect all relevant information in a context that helps a business unit plan and execute better while giving executives an integrated view of the individual plans. Devolving the modeling process and automating data movements and aggregations allows those in the financial planning and analysis (FP&A) function to devote more time and thought to the analytical aspects of their work, something I call "putting the A back in FP&A." To do this, Tidemark aims to
facilitate the process of translating managers' thoughts and expectations into models that enhance the value of the forward-looking information they can provide senior executives. This approach also promotes greater accountability because the outcome is the business unit's plan, not allowing users to think of it as the finance department's budget. Tidemark also places configuration and modeling into the hands of the users. Different parts of the business plan in different ways, and this differs between businesses. Moreover, as business and economic conditions change, the planning process must adapt in ways that suit the needs of those doing the planning.
Tidemark's main competitor today is the status quo. Companies continue to use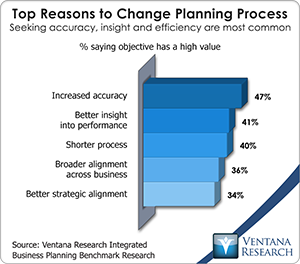 their budgeting process as a proxy for integrated business planning, which is only indirectly supported by individual business unit plans. This market is dominated by desktop spreadsheets and range of mostly legacy financial performance management (FPM) software, which includes dedicated planning applications from large vendors as well as smaller ones along with cloud-based vendors. Tidemark is changing the conversation from a finance-centric approach to one that support planning operations and finance in parallel – in short, business planning.
Companies that are dissatisfied with their current approach to business planning and are looking to improve what our research finds in a third to almost half of organizations as important like accuracy, insight, speed and alignment of their business planning should consider business planning. When they do, they should consider the kind of software that will enable them to support a better process. We recommend that they include Tidemark in their evaluation.
Regards,
Robert Kugel – SVP Research