Early last December, just before ChatGPT became the new, bright, shiny object, The Economist magazine ran a story proclaiming that we had finally arrived at the age of boring artificial intelligence (AI). From my perspective, it's unfortunate that didn't last and that AI has been relegated back to the buzzword league. AI will be an increasingly important feature of business software through the end of this decade. Ventana Research asserts that by 2026, almost all vendors of software designed for finance organizations will have incorporated some AI capabilities to reduce workloads and improve performance. The same observation applies, to some significant degree, to other parts of an enterprise, so it's important for people in operational roles to understand what AI can and cannot do. It's also important for vendors to clearly and concretely communicate what they mean when they say, "AI-enabled." Moreover, I prefer the alternative term "augmented intelligence" because it emphasizes that these systems enhance — rather than replace — the capabilities of the humans employing them, especially through improved decision-making and by eliminating the need to perform repetitive work.
Buzzwords can be great for communicating a lot with a little. When overused, however, they often are employed to conceal rather than reveal, and then they obstruct communication and breed mistrust. Already, the frenzy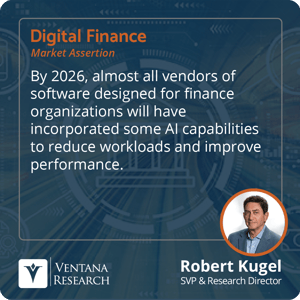 over generative AI has some people dismissing AI generally as another example of technology in search of a mission. For that reason, it's important for business software vendors to educate their prospects and customers (as well as their sales, marketing and customer success people) in concrete terms about how their AI capabilities and roadmap can help. Because when everything is "AI" or "AI-enabled," artificial intelligence isn't WOW, it's just more blah-blah-blah to be tuned out or treated with suspicion by people who don't understand the technology (which is a majority of them).
The scope of applicable uses for AI in business is vast, some of which are either in use for business today or will be shortly, while others are highly speculative or only will be practical at some undetermined time. I wrote about five well-within-reach use cases for business-focused AI capabilities last year, which you can find here. Briefly these are:
Accelerating forecasting and planning while reducing bias.
Automating analytics production to enable more time for analysis and thought.
Providing task supervision to spot data and information input errors.
Adding recommendations to facilitate decision-making.
Automating commentary to enhance reporting.
Because all of the above activities are hardly headline-grabbing, and the conversation around AI tends to focus on those potential uses that are the most complex, the general public harbors misconceptions that make it difficult for business software vendors to communicate effectively about the practical benefits of their offerings that use AI.
For example, most of the vendors' offerings don't require the user to have a data scientist on staff. That's because the vendors hired data scientists to build AI capabilities into their products so that the user doesn't have to. And, in any case, the algorithms — especially those that are used in time-series analysis frameworks — are mainly well-established. In that vein, while public discussions about the potential of AI tend to focus on the most complex challenges that may someday be handled by AI, there are many existing examples of simple applications of AI that are extremely practical, useful and available today, which can have a significant, positive impact on business operations.
AI can be trained to look at amounts or text strings in multiple contexts and question the entry if it doesn't seem right. The payoff from preventing errors and omissions from entering the system in the first place can be significant because preventing these mistakes cuts the considerable amount of time that the staff routinely devotes to finding and correcting them. AI offers a significant improvement over old-school, hardwired, data-validation routines that are time-consuming and tedious to set up and just as difficult to change as businesses evolve. This is because AI can apply relatively simple forms of machine learning (ML) to dynamically determine over time the normal bounds of values for a given data field while taking into account potentially subtle conditions such as a specific customer, product or sequence of transactions. This enables organizations to achieve accuracy and reduce risk with less effort and enables workers to spend more of their time doing things that make better use of their training, experience and judgement.
Similarly, those entering some event or transaction often are required to add comments that will be helpful to others further on in a process or at a later date, to provide important context. However, compliance can be spotty. Natural language processing (NLP) engines can be pointed to these types of entries to spot a sequence of random letters and numbers entered and, depending on the specifics of the task, determine whether the information in that data field is complete. Alternatively, a form of generative AI can provide users with shortcuts that simplify the task.
The rise of AI-consciousness has fostered fears that robots will take over jobs once held by humans. More likely, though, AI will take the tedious, robotic work out of jobs that today require the management of minute details, including accounting, supply chain management, purchasing and sales operations, among many others. Moreover, rather than operating in full autonomous mode, AI-enabled systems can be trained to act automatically when there's a high degree of certainty in the results the system generates but require individuals to make decisions when there's enough uncertainty about the result or where conditions warrant, as in the case of large amounts of units or money.
A lack of understanding of the true capabilities and limits of AI in specific uses has bred worry of malign impacts from the technology. Besides fear that it will make some jobs obsolete, there's justifiable worry about a lack of transparency in black box systems and the potential for biased decision-making. However, software vendors already have experience designing systems that can provide transparency. And those who advocate deploying finance AI systems must be prepared to counter unwarranted concerns of unintended bias of the social sort. For most use cases (such as reading paper invoices or allocating inventory to customers), there are no broader social implications. Moreover, especially in business forecasting, the system is likely to reduce bias and lead to better and more objective decision-making.
My focus here is on the small but important application of AI that may sound trivial and lacks sizzle but will have a significant impact on streamlining work, increasing efficiency, making some jobs more attractive to younger people entering the workforce. Vendors should focus on demystifying AI for an audience that largely doesn't understand technology and harbors mistrust of AI because while plain speaking might diminish the mystique of AI, it will certainly build trust.
Regards,
Robert Kugel