I recently attended SuiteWorld, NetSuite's annual user conference. In the opening keynotes and throughout the event speakers emphasized benefits for NetSuite users resulting from the merger of NetSuite and Oracle, completed last fall. I wrote about this at the time. NetSuite users are likely to benefit from Oracle's sales and core technology infrastructure. Before the merger, NetSuite's R&D spending was constrained by being a public company. The amounts needed to rebuild and extend its software on an accelerated timetable likely would not have been acceptable to stock market investors.
At the gathering, the company emphasized that NetSuite will operate independently from Oracle. That seems like a good idea, but as executives acknowledged, maintaining this independence over time will be a challenge because of normal organizational pressures. One measure of this independence will be maintaining SuiteWorld as an event separate from Oracle's OpenWorld. Oracle should consider expanding SuiteWorld to focus on all its ERP and financial management applications, especially Hyperion.
Sales of cloud-based ERP systems have been growing more rapidly than those deployed on-premises. One reason is that the cloud eliminates the maintenance burden, since vendors handle patching and updates. Our next-generation ERP benchmark research finds that only two-fifths (39%) of participants said it is easy or very easy to implement updates and patches to their company's on-premises ERP system. Just 19 percent said they are able to implement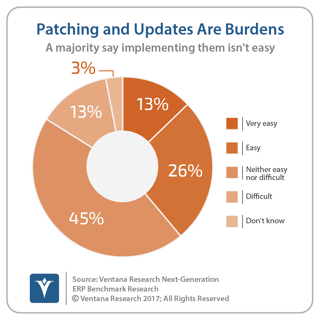 changes to or update the system within one week of a patch or bug fix release, and not many more (26%) can implement an update within a month of release.
The keynote presentations also affirmed that NetSuite will be using Oracle's existing sales offices and data centers worldwide to improve its competitive positioning in the market for midsize ERP systems outside North America, especially in Europe, where NetSuite did not have a sufficient concentration of offices or other in-country resources. This is partly because Continental Europe has had an entrenched set of incumbents with well-established implementation partners. Incrementally adding to local Oracle offices constitutes a far more affordable growth path. NetSuite is a global company, but most of its penetration is in English-speaking markets. Localization investments, mainly language support, will help in this regard.
SuiteSuccess was one of the more significant announcements at the event. These are preconfigured NetSuite implementations built around the company's domain expertise in specific industries, which enable it to embed, for example, a baseline of leading practices, functionality and key performance indicators. The intended benefits of this are faster time to value (the goal is to get a customer up and running within 100 days), increased business efficiency and flexibility, and greater customer success. Albeit unstated, another reason for SuiteSuccess is quality control. Our research confirms that issues of uneven competence among channel partners challenge ERP software vendors selling to midsize customers through them. More than half (55%) of midsize companies rated the organization that implemented their ERP system as average or below average, compared to 31 percent of larger corporations.
Faster time to value and software that works well from the outset are likely to increase customer satisfaction. The trade-off is that there are limits to what will be included in a SuiteSuccess setup. Some NetSuite functionality that is not readily configured, such as subscription billing or anything beyond a basic multibook setup, is beyond the program's scope. At the same time, the suite does integrate with some "Built for NetSuite" third-party software, such as Salesforce. The company is also planning to offer SuiteSuccess retrofits for existing customers later this calendar year. Representatives noted that retrofitting will not be feasible in cases where the existing configuration requires too much modification to be worthwhile. But some existing customers will benefit from this service if their implementation was not done well at the beginning.
Another notable announcement was SuitePeople, a human resources module. NetSuite acquired TribeHR in 2013 but has needed to integrate HR functionality and data on the NetSuite platform. Having HR as part of the offering is valuable because it's one less thing that must be integrated. It also enables NetSuite to have tight, bidirectional linkages between the HR data and financial and operational functions. The addition should be welcome: 63 percent of participants in our ERP research said that having HR functionality in their ERP suite is important to their finance department. The module was created by the TribeHR organization that was acquired by NetSuite, which has a design philosophy to make HR tasks less burdensome for employees and provide them with more self-service information.
NetSuite also offers Advanced Revenue Manager (ARM), which supports companies' compliance with the new revenue recognition standards (ASC 606 and IFRS 15) that I have written about. They go into effect next year. ARM automates revenue forecasting, allocation, recognition, reclassification and auditing through a rules-based event handling framework. It also can handle accounting for sales-related expenses, although I recommend that companies with even moderately complex sales incentive compensation plans use dedicated software to perform capitalization and expensing calculations.
There was also a long list of product enhancements and new functionality. One important and somewhat overdue new capability is outsourced manufacturing management. The accessibility of lower-cost manufacturing capacity around the world has enabled companies to disentangle production from product development, design, marketing and sales. However, these outsourcing companies need visibility into the state of production and costs related to these items, as well as supply chain and logistics data related to finished goods and supplied or purchased parts. The company also showed off advances in prebuilt reports and dashboards. That noted, NetSuite still needs to make its ad hoc and visual reporting capabilities easier.
One of the attractive features of NetSuite is the ability for users to configure workflows with a visual interface rather than having to code processes. This makes the system more flexible for trained business users because, using a visual interface, they can readily configure and reconfigure business processes to adapt to needed process changes without programming skills. The visual workflow currently works at a very basic level, however, and the system requires scripting for deeper or more complex workflows. Unannounced but in the works are enhancements to eliminate the need for such scripting, which will make the software more configurable by business users and offer NetSuite a competitive advantage. Our ERP research finds that only 17 percent of companies regard their ERP system as very flexible while another 40 percent said theirs is inflexible or not flexible enough.
I recommend that midsize companies that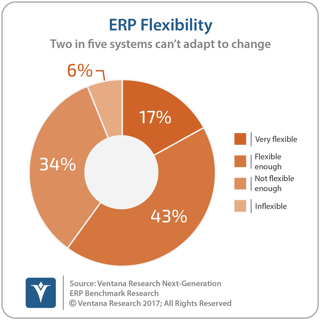 are considering changing their ERP system evaluate NetSuite, especially those in manufacturing, distribution, retail or professional services businesses and those that operate globally. Cloud-based ERP offers many potential advantages for midsize companies, including better performance and more rapid updates and patches, as well as a lower total cost of ownership, as it eliminates the need to dedicate valuable IT resources to system maintenance. Moreover, because security is of paramount importance to cloud ERP vendors, their sites that have undergone certification almost certainly more secure than most midsize companies' on-premises environments. While Oracle has its own cloud ERP suite that is growing rapidly, customers will have a choice to evaluate NetSuite or look at Oracle's offering and determine which one delivers best fit and longer term value.
Regards,
Robert Kugel
Senior Vice President Research
Follow me on Twitter
and connect with me on LinkedIn.