In early 2019, I first wrote about the escalating strategic challenges facing organizations resulting from the decade-long dismantling of the liberal global trade environment and the shift to more restrictive regimes. Supply chain management was upended in 2020 as a series of extraordinary events, especially the pandemic-induced supply chain shocks, compounded the tactical challenges facing supply chain managers and increased awareness of the brittle nature of lowest-cost supply chain structures. The impact of this shift has been accentuated by the recent fracturing of the world's political order, which is reshaping strategies about where goods are sourced and manufactured. Consequently, supply chains designed for the lowest possible cost had to be restructured for resiliency. However, minimizing costs remains a core objective, so organizations must manage their supply chains and logistics more intelligently, using technology to better match supply and demand while finding other ways to reduce working capital and their associated costs.
Moreover, in the post-pandemic world, organizations must deal with an entirely new set of issues and constraints that affect supply chain management. The cost of holding inventory for most North American and European companies will continue to be higher than over the past two decades because of tighter monetary policies, so balancing the trade-off between a just-in-case approach to inventory management and the cost of supporting higher working capital is now more consequential and requires a higher level of intelligence and supply chain visibility. Consumers and governments are placing greater emphasis on companies to adopt sustainable and environmentally friendly practices. Supply chain managers need to consider the environmental impact of their operations and find ways to reduce waste and carbon emissions.
Ventana Research uses the term continuous supply chain to describe an approach that enables organizations to manage interactions with the supply chain through more immediate and better-informed decisions using actionable information. Digital technologies increasingly can intelligently automate time-consuming tasks to help managers and executives achieve greater agility and support desired objectives. However, most organizations lack the systems and processes for supply chain management and will need to invest in technology to remain competitive. ERP technology is evolving to enable a continuous supply chain approach for manufacturing and service industries. ERP in the cloud advances processes for service and supply chains and their efficiency. ERP also increasingly includes technologies such as collaboration and the use of artificial intelligence (AI), using machine learning (ML), to support more efficient, accurate and rapid process execution while reducing the need for training.
Using supply chain management and especially sales and operations planning (S&OP) software can diminish the impact of increased trade frictions and costs associated with this new environment by enabling organizations to react faster to implement changes that optimize plans consistent with their specific tactical and strategic objectives.
Unfortunately, our S&OP Dynamic Insights research finds that just 26% of companies manage this process well or very well. Typically, there are multiple underlying factors, but, in our experience, inadequate technology, data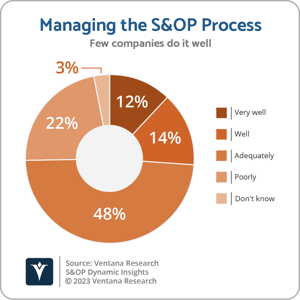 adequacy and quality issues are common. For that reason, Ventana Research asserts that through 2025, supply and demand chain management in over one-half of organizations will remain inadequate to ensure resilience and business continuity, requiring aggressive digital innovation.
The application of AI using ML has significant potential to improve supply chain management and S&OP because of the intricate orchestration of processes and the granularity of data involved in this form of planning. By automating the many repetitive and unambiguous steps that are currently handled by people, AI can cut unproductive workloads, shorten process and task cycles and enable planners to focus on the work that makes best use of their skills. AI has been a hot topic but mainly spoken of as a future capability. I expect there will be a steady stream of innovations — albeit modest at first — through the rest of the decade. I also expect that, over the next three years, vendors of supply chain management and S&OP software will increasingly be using AI/ML to streamline and automate processes to enable organizations to achieve greater resiliency and better performance in supply chain planning and execution. Ventana Research asserts that by 2026, one-half of supply chain management organizations will have adopted some form of AI/ML to shorten planning and forecasting cycles to promote agility and resilience. Those that learn how to use these capabilities early will have a competitive advantage over those that don't.
The changes to the global trade environment and the impact of social and political ructions on supply chains have forced organizations to rethink their S&OP strategy, placing greater emphasis on resiliency. This shift almost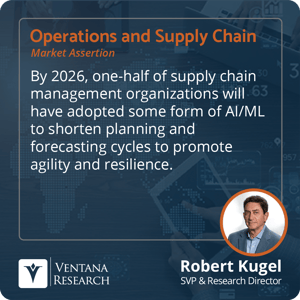 always raises costs unless organizations devise ways of mitigating the impact. Software can provide the ability to plan, react and execute in shorter time frames to promote agility. It can also devise new ways to reduce inefficiencies in a highly complex process. Supply chain issues have been headline news for several years now, and it's likely that most companies have been reassessing theirs. Even so, it's possible that many haven't done a thorough review of their software and systems, data and data management or their processes to identify potential for significant improvement. I recommend that organizations with even moderately complex supply chains review their current state to identify areas for improvement and determine how changes can be made to enhance resiliency and competitiveness. It's likely that the software they are now using for supply chain management and S&OP are falling short in supporting a more resilient future.
Regards,
Robert Kugel