Workday held its first in-person Rising user group meeting since 2019 in Orlando. Three topics are worth commenting on: Workday's Extend offering, its industry accelerators and its progress with the Workday Adaptive Planning offering.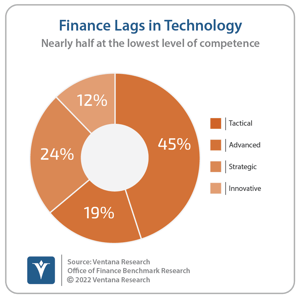 Extend: One important addition to Workday's offering is Extend, a set of software development tools that helps organizations develop, deploy and manage new apps that address process, data capture and data movement needs specific to that organization. Extend provides an important way to enhance the utility of all of Workday's Financial Management, Human Capital Management, Adaptive Planning and Strategic Sourcing offerings for specific businesses and industries. By facilitating the ability to execute end-to-end processes, Extend can address a systemic challenge in the office of finance: its lack of competence in using technology. Our Office of Finance Benchmark Research found that only 12% of finance organizations are innovative in the use of information technology, while 45% operate at the lowest level of competence.
In the era of on-premises deployments, meeting the specific requirements of an organization involved customizing the core application. In multi-tenant cloud deployments this is not possible, so cloud software is designed to be configured using a system's native tools to change its behavior or features without changing the underlying code. This enables subscription software and infrastructure providers to update the underlying code without affecting configurations made by customers. However, configuration alone often is not enough to meet all of an organization's needs, so customization has come to mean the use of extensions that use application programming interfaces provided by the vendor to connect data and processes with other applications or systems, plus low-code development environments such as Extend. Moreover, the development environment is design to facilitate ongoing updates to the apps, thus avoiding the problems organizations faced a generation ago with these sorts of extension that operated on-premises.
One of the notable trends in enterprise software is the evolution of applications into platforms, and Extend is an important component in the evolution of Workday as a platform. Unlike the older connotation of a platform – a technology base on which additional functionality is developed – these platforms are in effect suspended across multiple computing systems to facilitate process or data interactions between systems. For transactions processing systems that support the office of finance, the objective is to be able to manage processes end-to-end, including relevant data flows, ensuring timely execution and data integrity. The latter can substantially reduce accounting department workloads by limiting the need for checks and reconciliations that are necessary when data movements between systems are performed manually.
Maintaining data integrity end-to-end is a core principle of what Ventana Research calls continuous accounting. This process might be a simple hand-off from a customer relationship management application to the financial management system, or a more involved process where subscription billing software is used to manage the revenue recognition elements of these transactions. Platforms are also useful for any form of forecasting that uses historical data from multiple, disparate sources to better inform projections and present historical results, such as a business planning platform that uses data sourced from human capital management, disparate enterprise resource planning systems, supply chain or customer relationship management systems to support what Ventana Research calls integrated business planning.
Since its launch in 2020, there have been more than 750 different Extend applications developed by customers and partners. Workday announced it will support more partner involvement in developing such applications designed for specific purposes, mainly employed by individual vertical industries to make use of partners' expertise and intellectual property. The broad outlines of a go-to-market approach for these applications are in place, but this effort is still in its early stages. Moreover, some organizations will develop apps for specific purposes, especially if resources are available to do so. Extend has substantial potential to enhance the utility of Workday's platform and its competitiveness.
Industry Accelerators: Another important announcement to come out of the user group meeting is the establishment of Industry Accelerators for banking and capital markets, healthcare, insurance and technology, which are some of Workday's core verticals. The objective is to speed up implementations and reduce costs and risks by building on participating partners' established, industry-specific practices and process knowledge. Workday taps into participants' long experience with tailoring solutions for core businesses, plus a well-developed set of APIs and other methods of connecting Workday's Enterprise Management Cloud with other applications, data stores and custom applications. With implementation costs being a major initial outlay, and with project management issues and scope creep posing a risk to cost and time to value, having a fully defined and scoped design for specific industries has significant utility to buyers.
Workday Adaptive Planning: Workday acquired Adaptive Insights in 2018 as part of its strategy to extend the scope of its offerings for the office of finance, providing ongoing engagement. Originally aimed at midsize companies, at that time Adaptive had recently had a major architectural overhaul that enabled it to scale to the needs of major corporations. Over the past two years, the ongoing uncertain business environment has prompted more organizations to adopt dedicated planning software to enable accelerated planning and forecasting cycles, rapidly explore a range of scenarios in detail and automate periodic performance analysis and reporting. The company continues to sell to midsize companies but has also added large and very large logos to its customer list, an affirmation that it has been able to achieve its scalability goals.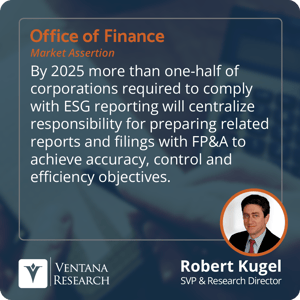 At the event, the company indicated that it is working with a partner to develop an environmental, social and governance analysis and planning capability, built on Adaptive. As I've noted, environmental, social and governance issues have grown increasingly pressing over the past few years as investors, government entities and others urge organizations to measure and disclose ESG metrics. Finance, planning and analysis departments are also likely to be charged with responsibility for internal ESG analysis and reporting, because to achieve environmental and social goals, organizations will need to assign specific objectives to individual business units and responsible parties. I assert that by 2025, more than one-half of corporations required to comply with ESG reporting will centralize responsibility for preparing related reports and filings with FP&A groups to achieve accuracy, control and efficiency objectives. To do so, FP&A groups must immediately establish a data management strategy consistent with its targeted ESG analysis and reporting approach. Workday isn't unique in offering this capability, but it will be an important element in evaluations of planning tools by organizations for at least the next few years.
Workday continues to evolve its product capabilities and the underlying architecture to match ongoing technology advances to support the digital transformation of the office of finance. As organizations consider replacing their core ERP system or implementing a dedicated planning application, I recommend they consider Workday Financial Management and Workday Adaptive Planning for these roles.
Regards,
Robert D. Kugel