Vena Solutions offers organizations a platform for financial planning, analysis and reporting as well as software to manage accounting consolidation and close processes. From the start, Vena has designed its applications to meet the needs of midsize organizations, which typically have the same requirements as large enterprises but with significantly fewer resources to acquire, manage and maintain technology. Ventana Research named Vena a Value Index Leader in Adaptability and a Vendor of Merit in its 2022 Value Index on Business Planning.
Vena's platform supports what Ventana Research calls integrated business planning, a term we coined in 2007 to describe a high-participation approach to business planning that integrates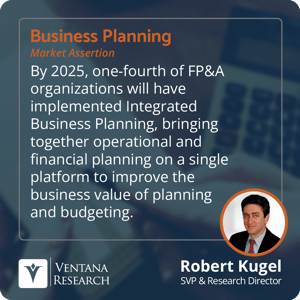 strategy, operations and finance. Integrated business planning enables organizations to plan, budget, report and analyze faster and more accurately. While the annual budget focuses on financial planning, IBP gives executives and managers operational tools to manage business planning in a more holistic, robust way than just budgeting. Ventana Research asserts that by 2025, one-fourth of organizations will have implemented IBP. Those that do will have a competitive advantage.
Recognizing that people working in accounting and finance live in spreadsheets, Vena's design philosophy embraces Excel as the user interface. It uses technology to address desktop spreadsheets' shortcomings, with a database that meets the multidimensional requirements of business planning, almost instantaneously automating the consolidation of all of the plans of an organization's various business units. Vena uses workflows to reduce administrative workloads, supports collaboration in the process and simplifies as well as automates reporting and analytics that are an essential ingredient in business planning and budgeting. The software enables variance analysis to assess the difference between actual and projected results, management reporting that augments financial analysis and profitability analysis.
To shorten the time to value, the company offers pre-configured data models, reports, templates and accelerators to efficiently tackle common tasks and processes. These tools maximize knowledge gleaned from years of implementations, reducing the need for customization.
An important trend in business software is the use of application programming interfaces to streamline the integration of data and processes across software packages. Vena publishes public APIs to connect with other applications, and it comes with a growing library of built-in connectors for commonly used software, including ERP systems designed for midsize companies such as Microsoft Dynamics, NetSuite and Sage.
Vena embeds Microsoft's Power BI, a business intelligence and data visualization tool that simplifies the process of creating dashboards and reports. Power BI connects to multiple authoritative data sources, ensuring data security, consistency and accuracy as well as allowing the creation of useful fusions of financial and operating information. This enables rapid access to data and also saves considerable time on data preparation tasks. The software allows users to find data and seek answers using conversational language. Power BI also uses built-in artificial intelligence capabilities to identify outliers and anomalies as well as flag potential issues in forecasts and plans as they are being created.
Because having a timely measure of expected revenue is important to effective business planning, Vena's platform offers sales planning and incentive compensation management to improve the accuracy of revenue and cost projections. Headcount is usually the biggest expense, so the company offers workforce planning to simplify the task of forecasting worker costs while improving accuracy. Similarly, capital expense planning can provide a better understanding of future cash flows or borrowing necessary to support investments.
Financial close management is a parallel task to the planning cycle, and using software to handle the accounting close can shorten the time to complete the process and accelerate financial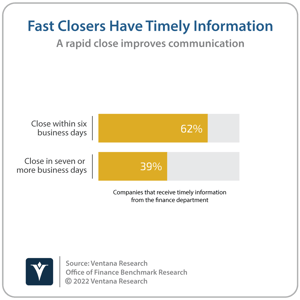 performance reviews. Closing sooner enables organizations to assess performance sooner, thereby enabling executives to seize opportunities and handle issues sooner to improve performance. Our Office of Finance Benchmark Research found that 62% of organizations that close within six business days have timely information about company performance, compared to 39% where the process takes longer. The research also shows that midsize organizations underperform in the close: just 41% of midsize organizations complete the quarterly close in 6 or fewer days compared to 59% of larger organizations. Vena's financial consolidation and account reconciliation software can accelerate the accounting close.
Vena operates its platform on Amazon Web Services as well as Microsoft Azure, which is consistent with its integration with Microsoft Office applications. Cloud-based planning systems facilitate distributed and remote planning efforts. They can be more cost-effective, especially for planning and analysis, which is prone to spikes in activity and required computing resource. Cloud systems can be elastic, rather than requiring a trade-off between heavy investments in equipment and poor performance.
Business planning – not just budgeting – is critical to managing successfully in changing and uncertain times. This is especially true for midsize organizations. Having the ability to quickly pivot as events dictate will be important for the foreseeable future. I strongly recommend that organizations adopt an integrated business planning approach to deal with the current predictably unpredictable times as well as the likelihood of a return to some sort of normalcy in the future. I recommend assessing Vena as a vendor to support that effort.
Regards,
Robert Kugel