Sage Intacct recently hosted its annual user group meeting, Advantage, and earlier this year met with industry analysts. Both meetings shed light on how the company is addressing two key opportunities. One is building a robust offering to address rapidly evolving technology requirements for the Office of Finance. The other is broadening the scope of its offering to address the financial management and administration needs of its customers.
Technology Transformation in the Office of Finance
Technology will transform how the Office of Finance operates more over the next decade than it has over the past 50 years. Over this period, advances will enable a higher degree of differentiation in this mature market than has been possible. Reflecting this, Sage Intacct's technology roadmap was a prominent feature at the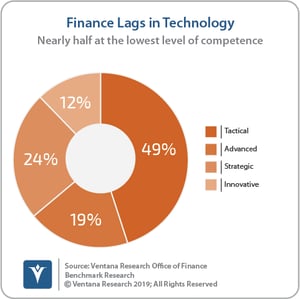 analyst day and at Advantage. The company's objective is to incorporate advanced technologies in a way that's accessible to customers and affordable.
However, like all software vendors in this market space, Intacct must deal with the fact that finance departments traditionally have been slow to adopt and incorporate technology advances. The vision of a digitally transformed, technology-enabled finance and accounting organization belies the reality: finance organizations are technology laggards. Half (49%) of organizations in our recently completed Office of Finance research place at the lowest level of performance in their use of technology while just 12 percent are at the highest. In part this reflects a cultural resistance to change but I think it also suggests that technology must be easier to use. Fortunately, software technology and design are trending in this direction. Cleaner, adaptive user interfaces and guided process management that can span multiple applications are important strides in enabling software to more readily adapt to the user's needs rather than requiring users to master the software.
Sage Intacct says its objective is to deliver what it refers to as an "intelligent general ledger" (GL). This is software that supports what I call "continuous accounting," which spreads workloads more evenly along accounting periods to accelerate the accounting close and maintain data integrity to improve the quality of financial reporting. The intelligent GL can provide real-time insights and analytics that monitor a company's performance. It also increases the automation of data entry using, for example, mobile devices to scan receipts, and monitors data entry in real time to spot inconsistencies or missed fields. Eliminating data errors at the source improves the quality of financial statements and enhances departmental productivity by removing the need to find and correct those errors, which are common in most accounting departments.
A core technology supporting the intelligent GL is artificial intelligence (AI), which has been receiving a great deal of attention because of its transformative potential. Use of this technology is one of several ways in which vendors will make finance departments more productive and more strategic in the coming decade. AI conjures up an image of computers beating humans at playing chess. However, for the finance organization AI's biggest initial impact will be on the mundane aspects of work.
A substantial amount of work performed in finance and accounting is repetitive and requires a limited degree of human judgment. It's therefore an ideal candidate for applying AI to automate standard processes such as invoice matching or to speed data entry by automatically filling in fields. In concept, it's straightforward to train a computer to perform standard repetitive processes using AI without having to resort to programming.
The challenge facing all vendors using AI in their products or services is having a system that works well enough out of the box that it doesn't frustrate users or require time-consuming training. History has shown that a premature release of technology (for example, the Apple Newton's handwriting recognition fiasco) can stifle a product with a great deal of potential. Thus, infusing artificial intelligence into business applications is likely to be an evolutionary process. I expect vendors such as Sage Intacct will do extensive internal testing as well as using alpha and beta test programs before releasing the software for general use.
A More Complete Offering
Over the past two years Sage has made two acquisitions of cloud-based applications: Fairsail, now Sage People, for human capital management (HCM) and Budgeta, now Sage Intacct Budgeting and Planning. The two, along with internally built Sage Analytics, provide Sage Intacct customers with complementary software to manage their administrative needs. Midsize companies especially can benefit from this sort of integration because it can reduce the total cost of ownership and implementations can be faster and easier. The integration of ERP, HCM and planning also makes it easier for midsize companies because there's a unified data set for budgeting, planning, analysis and reporting.
Sage People offers a full suite of HCM capabilities including human resources, talent acquisition, attendance, talent and workforce management as well as payroll, compensation and benefits. People are the largest expense item and the most critical component to the success of companies in Sage Intacct's core vertical industries. So an HCM application is a good strategic fit and follows the pattern in ERP and financial management applications suites aimed at larger organizations, which typically have an integrated HCM capability.
The Budgeting and Planning application offers midsize companies a compelling alternative to spreadsheets. Our research shows that 58 percent of midsize and larger companies use spreadsheets for budgeting and planning. The software simplifies modeling and reporting without requiring users to learn a lot of new skills. It can reduce budget owners' workloads while potentially providing more accurate budgets and forecasts for finance and business analysts. The application also offers integrated cash flow and balance sheet forecasting capabilities. This is especially useful for midsize companies since they can manage cash and their balance sheet with greater visibility and certainty, something that's relatively difficult to do using spreadsheets.
Having a suite of administrative applications provides Sage Intacct with a marketplace advantage. Our Office of Finance research finds that nearly half (47%) of organizations choose suites unless there is a compelling reason to buy individual applications and an additional 14 percent always choose suites.
The Cloud Advantage
From the start, Sage Intacct has been a cloud-based application. Given all the positive attention that cloud-based applications have received over the past decade, one might expect that finance department buyers would have fully embraced this deployment method. To be sure, cloud-based ERP is a growth category in the software market. However, our research finds that the cloud isn't the preferred way to implement this software. Half (52%) of participants said they prefer to deploy ERP software on-premises while only 28 percent prefer a software-as-a-subscription (SaaS) method.
I think this preference is misplaced. Unless there are compelling reasons not to, I advise midsize companies to move their financial management and other administrative applications to the cloud for three main reasons. First, this method of deployment is almost certainly more secure than what a typical midsize company can afford to provide for its on-premises deployment. Cloud-based software not only provides better protection from hacking but also eases disaster recovery. Second, performance and up-time is likely to be equal or better than most midsize companies can achieve on their own because the software is running on better hardware — and better-managed hardware and networks — than what almost all midsize companies can afford. Third, the pace of product innovation in financial management software will accelerate in the coming decade. Cloud-based systems enable companies to absorb these innovations more gracefully than on-premises systems do. When companies fall behind in major releases, updates and upgrades become expensive and problematic.
Software Tools Require Forward Thinking
Too often we find that companies faced with the need to replace their core financial systems look to replicate what they already have. What they should do instead is seek to understand how the applications they are considering can help improve their performance. Otherwise, they will be underutilizing the asset they've already paid for from the start. Technology will be expanding the capabilities of business software considerably, so it's important to focus on product roadmaps and vendors' likely ability to deliver on their plans.
Over the decades that I've been covering ERP and financial management software, it's been clear that companies tend to wait as long as possible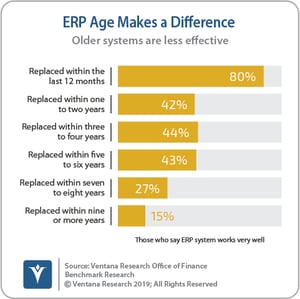 to replace aging systems. That's understandable given the cost and disruption that's involved in that change. However, our research shows that software performance declines steadily with age. While 80 percent of companies that recently implemented new software said that their system works very well, just 27 percent of those that deployed a system seven or eight years earlier said that's the case, as did only 15 percent of those with even older systems. ERP and financial management software are key to the performance of a finance and accounting organization. It's important to balance the potential of a replacement system to improve departmental performance against the cost and risk factors.
In considering vendors that can provide a replacement, companies should think beyond like-for-like capabilities. In addition to core financial management capabilities, Sage Intacct has integrated HR and planning and budgeting applications. Its technology roadmap is built on the capabilities of a worldwide development organization focused on the practical adaptation of rapidly evolving capabilities. I recommend that midsize companies in Sage Intacct's targeted industries and looking to replace their financial management system evaluate Sage Intacct.
Regards,
Robert Kugel