The evolutionary pace of technologies that shape the design of ERP systems has been accelerating over the last couple of years. In addition to cloud computing there is the increasing availability of analytics and reporting integrated into transaction processing systems, which I have noted; support for mobile users; in-context collaboration; and more intuitive user interface (UI) design. Each of these features enhances productivity and the usefulness of ERP software in managing a business. The latest release of FinancialForce, a cloud-based ERP system, offers significant enhancements to its user interface and collaboration capabilities.
In regard to the UI, ERP vendors have been rethinking the design of their screens and workflows to improve the user experience. In legacy ERP systems, screen layouts are relics of technology limitations that no longer exist. Almost all ERP vendors are focusing on refining their UI. FinancialForce has a slightly different approach: Let each customer decide what works best. In its Spring 2016 release, the company has made its input forms fully configurable so that companies are able to create their own "personalized user forms" to fit the specific requirements of a given process. Input forms also can be optimized for mobile devices to facilitate their use by users in situations such as a manager or executive giving an approval or a mobile worker doing multipart matching in some process. This approach is an example of a more "consumerized" experience because the user organization can configure the forms to fit their preferences. Unlike almost all other ERP systems, FinancialForce does not require specialist skills or outside consultants. With minimal training, someone in the finance organization can start with the basic input screen templates and customize them by dragging and dropping elements to fit the requirements of processes executed by a specific department. No programming is necessary. The result is a data entry interface that can be faster to learn and simpler to use than older styles, and which can boost accounting department quality and productivity.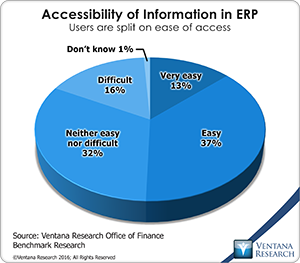 FinancialForce introduced its Action Views reporting engine last year to produce Excel-like reports directly from data stored in its cloud. Sources include ERP, human resources or any other data that is accessible to the user in the Salesforce Sales Cloud or Service Cloud (for example, to access customer records or to create a receivables aging analysis by sales agent). Action Views address the need companies have for easy access to ERP data and other enterprise data without having to set up a data warehouse. Action Views are designed to present actionable information to individuals so they can make informed decisions sooner. In our benchmark research, regardless of the size of the company or the age of the system, only half of users of ERP systems said it is easy or very easy to access the information in their ERP system.
The latest release offers a useful enhancement to Action Views called Related Content Panels (RCPs). These pop up to show tabs with account details and the account history, a task calendar for managing follow-ups such as a collection call and collaboration capabilities using Salesforce Chatter. As I've noted, collaboration is an essential aspect of the accounting function. Individuals often need input from others, for example to confirm or clarify some aspect of a report, track a specific transaction, find missing information or comment on or explain some piece of analysis or variance. RCPs enable the relevant group of people in a company (which could be anyone with access to Chatter) to have discussions about what is in a report. Our research shows that a majority of companies rely on email with spreadsheet attachments to facilitate collaboration, probably because once upon a time it was the only practical alternative. RCPs provide such an alternative. Rather than being scattered in multiple email threads, these discussions are readily accessible in the context of the report, and users can easily reference them later. Collaboration-in-context capabilities are a far more productive way for individuals to collaborate and interact. An in-context collaboration capability like RCPs provides direct contact with individuals while they perform a specific task. In-context collaboration will become an essential feature of ERP software because it increases productivity and provides easy access to historical records of conversations.
The Spring release of FinancialForce adds intercompany reconciliation and automated elimination entries, both of which can significantly reduce the amount of period-end accounting work and accelerate the financial close. Continuous accounting is the term we coined to describe a new approach to managing the finance and accounting function. Today's financial software gives companies much more flexibility than paper-based systems or legacy software in how and when they perform their work. The monthly, quarterly and annual period-end bunching of tasks was a practical approach to dealing with the limitations of paper-based systems. Today it's possible to use technology to spread workloads evenly across accounting periods. Reconciliations and eliminations can be done more frequently, reducing the end-of-period workloads, shortening the close, reducing the need for temporary hires and easing stress in the department. In the new release, FinancialForce Reconciliations enables companies to post a single record of an intercompany transaction in separate general ledgers simultaneously to eliminate potential discrepancies at their source. For entities using different functional currencies, a global exchange rate facility automates their translation at the time the record is posted.
FinancialForce's software is designed to meets the needs of several types of companies. As a cloud-based application, it's suited to the needs of corporations that have outgrown their small business accounting software packages and can benefit from having the ability to connect sales, marketing and customer service capabilities with their back-office functions. It can help midsize businesses – especially those selling business services – grow while minimizing the need to add administrative staff. Many companies with 50 to 500 employees still use basic accounting packages even though they have outgrown their process management, reporting and analytical capabilities because they hesitate to make a new investment in an on-premises accounting package and the resources necessary to support it. Maintaining an existing accounting package might appear the safe choice, but it foregoes the operational and management benefits that more capable software can deliver. Cloud-based software usually entails a smaller upfront commitment and does not require ongoing reliance on paid staff to support a system. FinancialForce also is well suited for larger companies that have a professional services group with 30 or more employees who bill their time and expenses, especially those who engage in discrete projects. Salesforce.com users of all sizes can find FinancialForce components useful in automatically connecting their salesforce.com processes with other enterprise systems in a managed and controlled fashion, without having to re-enter data. I recommend that all these organizations consider how this vendor's products can help meet their needs.
Regards,
Robert Kugel
Senior Vice President, Research