Whatever Oracle's cloud strategy had been the past, this year's OpenWorld conference and trade show made it clear that the company is now all in. In his keynote address, co-CEO Mark Hurd presented predictions for the world of information technology in 2025, when the cloud will be central to companies' IT environments. While his forecast that two (unnamed) companies will account for 80 percent of the cloud software market 10 years from now is highly improbable, it's likely that there will be relentless consolidation, marginalization and extinction within the IT industry sector driven by cloud disruptions and the maturing of the software business. In practice, though, we expect the transition to the cloud to be slow and uneven.
Our Office of Finance benchmark research finds that nearly half (46%) of companies prefer an on-premises deployment for their ERP system, as do almost as many (44%) for their statutory consolidation system. The rest mainly had no preference. In contrast, only 29 percent said they prefer in-house deployment for their sales tax management software, a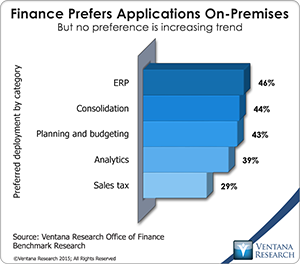 category well suited to cloud deployment because it rarely requires customization but does require ongoing updates to tax rates, which are done automatically as part of the service. Our research also found that companies are keeping their ERP systems longer than they did a decade ago – on average 6.4 years vs. 5.1 years.
The longevity of on-premises core finance applications means that the major players in today's software market are well positioned to remain leaders over the next decade (if only because the transition will be slow), but their future market positions are far from certain. For Oracle, evolution to the cloud poses fundamental challenges by undercutting some of the pillars of its existing market strength.
A defining, ongoing trend in business computing over the coming decade will be the disintermediation of IT departments and systems integrators (the consultants who install software packages), as customization gives way to off-the-rack approaches. Both of these groups have been important to Oracle's market position and pricing power. I estimate that the share of corporate IT budgets that go to IT departments and systems integrators today will be cut by at least half, and some of the savings will accrue to companies in the form of lower total cost of ownership (and therefore permanently lower IT budgets) and some will be captured by cloud service providers, which will assume responsibilities for work now performed in-house. The shift to the cloud is likely to hollow out IT departments as, over the next 10 years, companies phase out most of the "keep the lights on" activities that consume a large percentage of their IT budgets as they shift their application software deployments to the cloud. Except in companies where IT is a strategic competence, most will resize the group to focus mainly on what's essential. As usual, IT professionals made up the vast majority of attendees to this year's OpenWorld. It's likely that substantially fewer of them will be in those roles a decade from now.
Oracle stands to lose significant revenue from its highly profitable database business as existing database customers shift to software-as-a-service (SaaS) offerings that use open source databases. In the cloud, nobody cares what database you're running. Some of the superior operating economics of cloud solutions rests on the service providers' ability to utilize the less expensive open source software. Some of this loss will be offset by Oracle's emerging set of cloud services (including, for instance, the platform as a service and private cloud hosting) that were highlighted in the keynote sessions. Oracle is well positioned to become the market leader in the private cloud services segment by dint of customer loyalty and its historical ability to drive down its operating costs faster and further than others. But it's unlikely that the company as a whole will sustain its current margins because in the more competitive cloud services markets it will not have the same pricing power it enjoys today in the database business.
So it's critical for Oracle to pivot toward business applications because higher revenues in this part of the business can offset the negative impact the cloud will have on its on-premises database and middleware businesses. There are abundant opportunities for a company as diverse in its offerings as Oracle to increase its revenue stream from business application customers by some multiple of their current maintenance charges (on the order of one-and-a-half to two times) and still cut the customer's total cost of ownership. Controlling the migration of existing on-premises customers to its cloud offerings, adding additional applications and services, and attracting new business application customers all are essential to the company.
The shift to deploying business applications in the cloud will be driven by three main factors. One is eliminating the need – or the perceived need – for customization. Over the next decade vendors' offerings will evolve to be more readily configurable, as I have discussed, and corporations will be less willing to pay for customization if there is a reasonable alternative. The second is the persuasive economics of letting a third party – not an internal IT group – handle the day-to-day operations of all but the most strategic aspects of their business computing environment. Together the two will convince most companies to eliminate all but the essential custom code in their business computing environment. Seven-figure projects will get far greater scrutiny by company boards. The third is a recognition that for all but the largest companies, service providers can deliver better security and higher-quality infrastructure than internal IT groups can. In this environment, IT organizations will avoid oblivion only to the extent that they can provide differentiated, strategically valuable capabilities. This disintermediation will produce a relentless decline in the number of people employed in corporate IT departments and a diminishing influence in business application purchase decisions. As IT departments shrink and continue to lose influence in selecting business application vendors, Oracle faces a diminishing advantage from this constituency.
The cloud allows line-of-business and finance executives to gain increasing influence on buying and operating the software their organizations use to run the business, analyze and communicate results and plan its future. So it's essential that Oracle shift its attention to business users. This will not be easy for an organization that historically has treated business applications as a sideshow and has an ingrained cultural bias that regards this software as technologically trivial. Several years ago, in his opening OpenWorld keynote, Larry Ellison was part of the way into the second slide in the section covering the applications business (which was about the 127th of his keynote), when he stopped, scanned the rest of the bullet points and then, looking back at the audience said, "Yadda, yadda, yadda." He skipped the rest of the applications slides and moved on to next section. Going forward the company needs a change in the tone from the top.
Oracle has substantive advantages that it can exploit to gain share in the business applications markets. As a result of its participation in the consolidation of those markets over the past 15 years, its portfolio covers a broad swath of business functions with mature offerings that have an exceptionally rich set of functionality. Rewriting on-premises software for the cloud (already under way but not yet complete) isn't easy, but the necessary intellectual property (that is, subject matter expertise) is already there and so is an existing installed base that can be farmed to migrate to cloud services. Moreover, for at least a decade, most companies are likely to maintain a hybrid computing environment that combines cloud and on-premises deployments. For example, this will be true for ERP systems, as I've noted. If Oracle can cut its cost of providing private cloud services, it should be able to make this an attractive offering to companies that need their customized code and cannot make a multitenant SaaS application work for them. Similarly, some organizations will be able to accept a multitenant application for some functions in a software suite (such as core financial management) but maintain a customized code base for others. Oracle's full-service approach to applications in the cloud will be appealing to organizations that are not turned off by the risk of being locked in and even to those that want to choose from a menu of cloud and on-premises services and software.
Even with these strengths Oracle faces three main challenges in business applications: modernization, customer engagement and operational execution. The company is heading in the right direction in each of these areas, but much is left to be done and success is far from assured.
Today's business software in general needs a design overhaul that is more than a change in motif. Regardless of how business software is deployed, vendors will have to focus development efforts on improving the user experience to enhance productivity and organizational effectiveness. They will have to consider the mental ergonomics of performing work, which I have written about. They must adapt business applications to utilize the expanding interface modes (for instance, touch screens and glasses) along with an expanding syntax of interactions (such as gestures). With so many aspects of business applications becoming a commodity (in which all the core features and functions are essentially the same), vendors need to rethink how users work with their software with the objective of simplifying and streamlining user interfaces. Of course, aesthetic qualities also count, which is why so many business software vendors are now touting their "consumerized" designs.
Modern business applications also need collaboration–in-context capabilities to replace email and attachments. "In context" here means that the software understands what the user is doing at that moment and facilitates conversations with one, several or all of the people with whom that individual would interact in performing that task. Such conversations should offer the flexibility of occurring in the moment or over time. Another key will be the ability to easily reference documents, line items in a database, journal entries and spreadsheets as part of that conversation and to apply access rules to each participant in the conversation.
Oracle has a deep connection with its IT audience but much less of one with business users. This year, Oracle built a Modern Finance Experience event into OpenWorld, which is a great start to deeper engagement with these customers. Unfortunately, OpenWorld is not the venue for finance organizations because it usually falls at a time when finance professionals need to be in the office to handle period's end processes.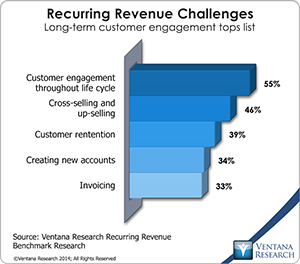 It's also important for the company to infuse its business applications events with the same enthusiasm and support that prevailed in the PeopleSoft and Hyperion gatherings before Oracle acquired and absorbed them.
Sustaining high levels of customer satisfaction and customer engagement are key objectives for software-as-a-service vendors. Our recurring revenue benchmark research shows that for a majority (55%) of companies sustaining customer engagement is a challenge. Very likely for that reason 46 percent of participants said that cross-selling and up-selling (to add incremental revenue streams) is a concern. How well a SaaS vendor delivers its service is less difficult for relatively simple applications (such as expense management or even business planning) than for something as complex as ERP. Because it is positioning its cloud offerings to appeal to organizations that want to attempt more complex cloud deployments, Oracle is likely to find maintaining satisfaction more difficult. Reputations will be made or lost over the next five years.
Oracle is in position for a world heading for a hybrid cloud and on-premises IT environment. However, there are significant changes that the company must implement over the coming decade to retain its leadership position. Chief among these will be a pivot to emphasize business applications and spur greater engagement with line-of-business and finance department customers.
Regards,
Robert Kugel – SVP Research