Unit4 is a global business software vendor focused on business and professional services, the public sector and higher education. Recently company executives met with industry analysts to provide an update of its strategic roadmap and to recap its accomplishments since being acquired by a private equity firm in 2014. Unit4 is the result of successive mergers of ERP and business software companies, notably CODA and Agresso. The company is also a part-owner (with salesforce.com and others) of independently run FinancialForce, which sells a cloud-based ERP system built on the Force.com platform.
All vendors of business applications – especially ERP – are challenged today by a more disruptive technology environment than they have faced over the past 15 years. Unit4 is in the beginning phases of a planned evolution of its product and go-to-market strategy designed to gain share in the global ERP market. Parts of what it presented to analysts are already in place while other parts lie ahead still on its multiyear roadmap.
From a technology standpoint, the ERP software market has been in period of relative stasis since the Y2K bubble burst in 2000. Other than the arrival of cloud-based software as a service, the pace of innovation in this category has been relatively slow, especially relative to the pace set in the 1990s. Now this market is in the process of changing and organizations are deciding when to replace their ERP as I have written. The accumulation of more than a decade of small but steady incremental technology advances is giving vendors new possibilities for designing their applications. For its part Unit4 has been evolving the architecture underlying its applications to make them easier to implement (the company calls it "an elastic foundation"). It is also using Microsoft's Azure platform to enable it to offer, for example, predictive and prescriptive analytics, mobile application functionality and intelligent process automation.
Unit4's product and marketing strategy aims to seize opportunities provided by technology disruptions to gain share in a consolidating market. We see three main sources of technology disruption that increasingly will be driving buyer preferences in the ERP market over the next decade.
One is the use of technologies to provide new more valuable capabilities. Here are some examples.
User efficiency is increased by greater automation of repetitive tasks (especially in finance and accounting departments). In addition, many legacy ERP systems have gaps in their architecture or their design that require manual process steps, process interventions (that require input rather than requiring it by exception) and manual data transfers. Another aspect of automation is reducing the need for data entry. For instance, an individual's appointments booked in Microsoft Outlook can be reused for billing. Some of the built-in automation will be designed for vertical industries to reflect their specific requirements.
Overall effectiveness can be enhanced by use of more advanced predictive and prescriptive analytics as an integral part of a transaction-processing application such as ERP. These techniques can improve the quality of decisions that individuals make in executing transactions. Unit4's strategy is to create vertical-specific advanced analytics to address the needs of these businesses. Effectiveness also can be improved by embedding in-context collaboration capabilities, which I have written about. That is, such software is "aware" of what an individual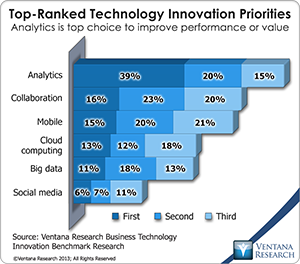 is doing and, for example, provides ready access to the specific colleagues that the user may need to contact at that moment and enables them to share all underlying data and documents that might be relevant under the specific circumstances (such as a master contract or previous instant messages). Our benchmark research on business technology innovation shows that collaboration ranks second in importance behind analytics as a technology innovation priority. Collaborative capabilities in software will multiply over the next several years as software transitions from the rigid constructs established in the client/server days, which force users to adapt to the limitations of the software, to fluid and dynamic designs that mold themselves around the needs of users. Business is an inherently collaborative process anyway, so such capabilities are important to the productivity of business software users.
The user experience is improved by rethinking its design and organization of the screens. Unit4 aims to improve the mental ergonomics of working with its applications. The redesign reduces screen clutter, facilitates navigation across screens to complete a task and enhances graphics to make interactions more pleasing and efficient.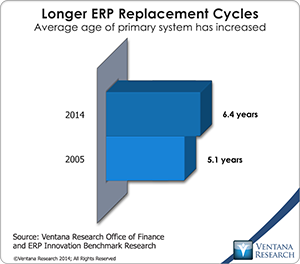 Unit4 encapsulates these existing and prospective improvements in the slogan "self-driving ERP." One element of this metaphor is reducing the amount of effort and attention required of individuals to handle mundane repetitive chores. The other is that by using built-in analytics that can spot potential issues and opportunities in the data, individuals will be able to spot and take action on situations that have the highest payoff. The company hopes to extend the capabilities of its ERP software beyond a simple transaction processing engine to include differentiated capabilities to run businesses more -intelligently.
In addition to providing scope for product differentiation, offering organizations far more than a like-for-like replacement of their existing software may provide an incentive to replace existing software sooner. One impact of the slow evolution of technology on the ERP market is that, as shown in our Office of Finance research, on average, companies are holding on to their ERP software a year longer than they did a decade ago.
A second technology that is already disrupting the market is the increasing adoption of cloud-based or hybrid-cloud-based ERP systems by Unit 4's key target buyers: larger midsize companies in business and professional services, government and higher education. These sorts of organizations tend to have less capable IT staffs and smaller IT budgets than large public companies. This affects the performance of their systems because the software and hardware are not always kept up to date. For these buyers, a cloud-based product can deliver better performance than they currently have at a lower total cost of ownership.
The third disruptive technology approach is permitting end users to configure the ERP application without having to modify its code. Cloud-based applications that are designed to be used in a multitenant environment must be flexible enough to appeal to the widest possible audience. This requires an architecture that enables individual organizations to readily configure processes and make adjustments without altering the underlying code. It also means having industry-specific or even micro-vertical capabilities built into the system. Vendors that want to offer their software in a multitenant environment have to do this, but it is useful even in an on-premises or private cloud deployment because it can reduce the effort and expense of deploying the software. Properly executed, this approach makes the software more adaptable to how a company does business, rather than forcing an organization either to live with the software as is or pay significant fees to modify it to meet specific requirements. Unit4 was already heading in this direction before the change in ownership and management.
The management team also has been tackling internal issues and revamping its go-to-market strategy, essentially completing the integration of the various software companies. The company will invest in promoting a single master brand for visibility. Product naming has been simplified to "Unit4" plus a functional label construction (such as "Financials," "Professional Services" and "Consolidation"). This will apply across the board except for "Business World," which has good recognition on its own. Some once local or regional products such as Travel and Expenses are now available worldwide. Unit4 is increasing its exposure in North America, increasing its sales coverage where it has had a limited presence, as well as focusing its European sales efforts in the U.K., France and Germany.
Technology and innovative software design will drive consolidation of the ERP market over the coming decade. Unit4's management team has made necessary changes to its sales and marketing management. Its strategies are sound and essential to its long-term success in this market environment. Combined they reflect a formula that successful business applications vendors will use to gain advantage in the newly dynamic ERP market. The company is well-positioned to achieve its objectives from product and market standpoints. At the least, Unit4 has the potential to grow faster in its fragmented markets by taking share from smaller vendors that do not have the critical mass to make the necessary investments in products, sales and marketing. (By analogy, this is similar to what happened with a long list of DOS business applications that did not have a recurring maintenance revenue stream to fund redevelopment on Windows.). However, its strategies are not unique. For that reason (and I hate to state the obvious), Unit4's management will need to execute its strategy well. To ensure that it gains sufficient market share to sustain a competitive position, it will need to innovate faster than its competitors in shorter product cycles and execute in the field consistently.
Regards,
Robert Kugel – SVP Research