Epicor used its recent user group conference to explain its strategic direction and product roadmap. The company is the result of multiple mergers of business software corporations over the past 15 years; its target customers are midsize companies and midsize divisions of larger organizations. Its most significant products are Epicor (ERP software aimed mainly at manufacturing and distribution companies) and Activant Solutions (software for small and midsize retailers, including a point-of-sale system). The company also has software that manages CRM, HR and human capital and supply chains, and provides financial performance management (FPM) and governance, risk and compliance (GRC) capabilities. These components of the software suites are adequate for the needs of many of the company's target customers and are not intended as stand-alone applications.
It's worthwhile to view Epicor's situation in market context. During the first decade of the century there was a sharp decline in demand for ERP and other software categories as well as limited technology advances, and this led to a wave of consolidations. For example, Oracle bought PeopleSoft (which had acquired JD Edwards), Microsoft picked up Great Plains and Navision (both of which had just acquired rivals), and Infor was assembled from multiple layers of consolidated companies. These corporate restructurings made sense from both financial and operating perspectives in that they could achieve some economies in administration and R&D in a relatively stable business and technology environment. That era has ended. The challenge facing all vendors of legacy ERP systems is to significantly redesign their core applications to address evolving market requirements. These include a user experience that is more intuitive and productive and reducing the cost of implementing and operating the software. Epicor is positioned to address these challenges, but success will depend on its ability to accelerate its development efforts in enhancing the user experience and lowering the total cost of ownership of its software (whether on premises or in the cloud) while adding users to boost revenues.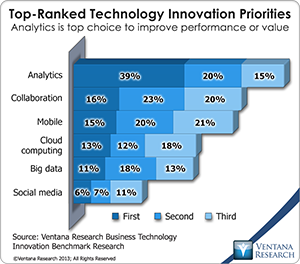 Executives at the user conference highlighted their development themes, which are consistent with our research on business technology innovation priorities. Epicor will concentrate development efforts on utilizing Microsoft's infrastructure and the customer benefits that this makes possible. For example, the most recent release of ERP 10 was presented customers with fewer issues than the previous major release because it didn't have to deal with the complexities that go with trying to support multiple IT environments. Speakers emphasized five key themes in product design going forward: choice, collaboration, responsiveness, simplicity and mobility. All of these are consistent with the broad market trends that have been under way for a few years. Addressing all of them is necessary for Epicor to achieve its strategic goals. Specifically, the company has been investing in making its applications more granular so that companies can have end-to-end process management as well as the flexibility to deploy only the pieces of the software suite that they need. Epicor is also intent on giving companies the choice to deploy its software on-premises or in the cloud in multitenant or single tenant form. I have written about the importance of this for new ERP deployments. Since finance and manufacturing – not just the front office – are now social entities and because social capabilities facilitate collaboration in managing processes, the company has been beefing up these features of its software. Executives also emphasized that its development strategy is to provide simplicity in deployment and the user experience (including ease of use, ease of upgrades and better performance) and to expand mobility options. Ease of upgrades is essential for the company to compete in the on-premises market and to support a hybrid cloud strategy. The company is planning to offer enhancements to its ERP 10 software every four months, so it's critical that upgrading be simple or customers will fall behind and satisfaction will decline.
Epicor also has been evolving its reporting and financial performance management capabilities over the past five years; these are essential for an ERP vendor to offer. It has taken the individual budgeting, planning and reporting created for specific applications and built an FPM application that supports its applications and gives users of FRx (a once widely used but discontinued product from Microsoft) a replacement option. Sessions at the conference highlighted numerous small but essential enhancements that Epicor has made over the past two years to all of the applications that deepen functionality and enhance their usability.
At this point Epicor has a large installed base and a product line that is attractive to midsize companies and as a tier 2 package for larger companies. However, after a decade of technology drowsiness, business software markets are becoming more dynamic. ERP systems are about to undergo a considerable transformation, driven by the growing availability of technologies that can address the operational shortcomings of established systems. A demographic shift is taking place in the ranks of senior executives and managers – from the baby boom generation to those who grew up with computer technology – and this will drive demand for a new generation of ERP software. Soon, to be competitive these systems will have to deliver a better user experience, greater flexibility and agility as well as mobility and lower cost of ownership. Epicor is heading in this direction, but it will need to run hard just to sustain its market position.
The company is moving to rationalize its software offerings (while still supporting existing users), which is essential to be able to quickly evolve its offerings by providing flexible deployment options and facilitate ongoing enhancements to its products. It would benefit extending its partnerships to add product breadth. For example, its FPM capabilities are solid for some customers but especially for its larger ones it lacks some essential capabilities that we evaluate in our Value Index on this topic.
Epicor is no longer a public company, and that can be a good thing when management needs to make investments and take chances it might not dare when financials results must be published every quarter. This is especially true for the ERP category since, as a result of the complexity of the product, no single big breakthrough will change the market; a steady and protracted series of incremental advances will in aggregate determine which vendors succeed over the long term. Epicor has a solid foundation, but to achieve its strategic objective of remaining a major business software player, it will need to invest heavily and execute consistently and nimbly over the next several years.
Regards,
Robert Kugel – SVP Research