Informatica and Exterro have announced a partnership in the market for discovery of electronic data and documents (known as e-discovery). Exterro has made its reputation in e-discovery workflow and legal holds management while Informatica is a leader in data integration that our Value Index finds as the top and Hot rated provider. The partnership is designed to provide users of Exterro's Fusion E-Discovery software with a single point of control for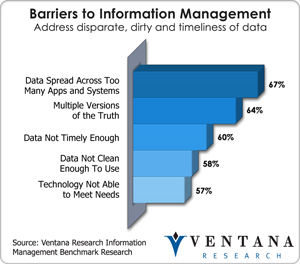 organizing and managing legal and preservation holds (that is, preventing electronic data from alteration or deletion) of unstructured and structured data that are held in Informatica's Data Archive. Informatica specializes in the efficient management of information assets, which our benchmark research shows is not easy for most organizations to do because they have data spread across multiple applications and systems: Two-thirds of organizations said that this makes it difficult to manage information. By consolidating in a single repository the storage of information that is likely to be the subject of discovery, companies can simplify and cut the cost of the search process as well as reduce risk. Orchestrating legal and preservation holds can be complex since multiple people or groups within a company may be legally involved with the same data over an extended period of time. Moreover, it's important to ensure that once the holds are no longer needed, all data that can be eliminated is eliminated.
This situation brings to light an increasingly sensitive predicament for many businesses. Corporations are required by law to retain records for a given period. These times differ from one jurisdiction to the next and vary according to the type of information in the records. For example, retention periods for general business matters tends to be the shortest, while information related to pharmaceuticals and radioactive materials require long retention. Traceability – the ability to determine and verify the history, use or location of an item and its constituent parts across an entire supply chain – is a fixture in some in some businesses such as those providing critical materials used in aerospace parts and to an increasing extent food. Failure to preserve data or to be able to produce it a timely fashion can lead to heavy fines or expensive judgments. The flip side to retention is that corporations must take care to delete records that no longer have business value and are not required to be retained, since even innocent items can pose a needless threat in litigation and add to the cost of maintaining and finding information.
Once mainly an issue in the United States, the increasing volume of litigation worldwide and ever expanding regulation of businesses has expanded the breadth and amount of information that parties may have to produce in the discovery phase of litigation and regulatory actions. Along with this trend, e-discovery has grown exponentially in importance as more and more of everyday business is captured in electronic systems. Hence the need for software to manage the e-discovery process and the underlying data.
A great deal of the information needed for e-discovery is unstructured – documents and email are particularly common. But especially in financial services, information contained in structured databases also is important. Banks, brokers/dealers and insurance companies all generate a considerable amount of structured data related to operations that can be subject to discovery. The volumes of data that are exposed to discovery continue to grow in lockstep with the growth of data created by today's IT systems.
Law and regulation by the book prescribe processes that must be managed and documented carefully. Workflows handle processes affect the efficiency with which discovery management is executed. Legal holds require tagging of documents that have to be available in the discovery process to ensure that they are not inadvertently removed or deleted from a repository. For example, if a set of transactions and related email messages are germane to a regulatory action, they must be preserved until the issue is resolved, regardless of whether under ordinary circumstances they would be destroyed because their legally defined retention period had expired.
Exterro's Fusion E-Discovery Suite incorporates the necessary capabilities as well as data mapping and data management to make processing records efficient. Exterro competes with IBM and Hewlett Packard/Autonomy, among others, in the e-discovery market. It positions itself as providing a more open portal than the others, enabling customers to have greater freedom to decide where the data is held. The company will benefit from the new partnership by having tight integration with a key information storage provider. Informatica for its part has acquired another important use case that provides durable value to its existing and prospective customers.
Companies – especially their legal departments – often fail to recognize the negative impact that poor data management has on their ability to execute consistently and efficiently. Usually, they recognize they have a problem only after an expensive or embarrassing failure. It's important that organizations regularly review their data assets and data management practices to determine where they can be a source of failure or inefficiency and address these issues immediately. They should consider how Exterro and Informatica can help them reduce a potentially dangerous risk exposure that our research confirms that over half (51%) of organizations indicate as their top ranked concern in governance, risk and compliance.
Regards,
Robert Kugel – SVP Research