Prophix offers cloud financial software for planning, budgeting, reporting and statutory financial consolidation designed to meet the requirements of midsize organizations and divisions of larger corporations. The company was one of the first to offer a planning platform capable of bringing together a company's diverse planning processes and financial planning and budgeting. Its consolidation and close automation enable a shorter close and improved accounting staff productivity for midsize corporations that have even moderately complex legal entity structures that operate in multiple currencies. Increasingly, organizations are finding that having the right finance and accounting department software tools helps attract and retain the best talent.
Organizations have faced considerable challenges over the past few years, dealing with an uncertain future for economies, markets and supply chains. More recently, they have contended with inflation and rising interest rates. Rapidly changing conditions and multiple potential outcomes have put a premium on having answers to what-if questions right away and put an end to "I'll get back to you with that" as an answer. Prophix enables users to do what Ventana Research calls integrated business planning (IBP): a high-participation, collaborative, action-oriented approach to planning and budgeting built on frequent, short planning sprints. Short planning cycles enable companies to achieve greater agility in responding to market or competitive changes. High participation promotes buy-in (it's not just the finance department budget) and ensures that front-line perspectives are aligned with top-down objectives and consistent with financial constraints and goals.
Prophix offers a cloud budgeting and planning platform that enables midsize organizations to connect all their planning activities to simplify the process of collecting and consolidating data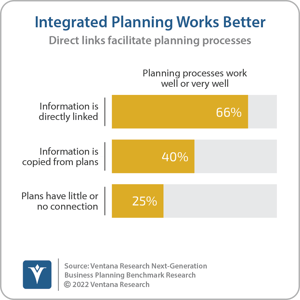 from different business units into a company-wide view. Our Business Planning Benchmark Research shows that 66% of companies that directly link planning information have planning processes that work well or very well. By comparison, only 40% of companies that copy data from individual plans, and only 25% where there is little or no connection between plans, say their processes work well or very well. Integrated business planning uses technologies such as a unified data environment, workflows and advanced analytic technologies to make planning and budgeting processes more agile and increase their business value. And IBP can make budgeting easier for business unit managers while providing better insight into their operating performance.
Midsize companies often outgrow the methods they use to consolidate their books for their periodic accounting close. Financial consolidation and close software accelerates the close process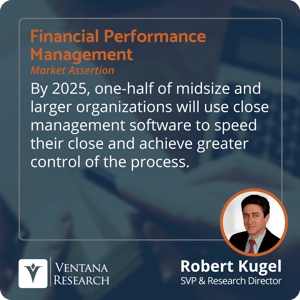 and provides greater control of calculations by automating what were once manual processes. Even midsize companies with a single ERP or financial management application may find that their software requires too many manual operations to close the books. Ventana Research asserts that by 2025, one-half of midsize and larger organizations will use close management software to accelerate and gain greater control of their close processes.
Built-in workflows in Prophix enable finance departments to automate repetitive tasks, run them automatically, monitor processes to ensure they've been performed and manage exceptions so that they're attended to promptly. This includes activities such as planning and budgeting cycles, data imports Workflow gives back valuable time to departmental staff and managers. To facilitate integration with ERP systems for planning and consolidation, Prophix has connectors to the major vendors' systems designed for midsize organizations.
Lockdowns and the subsequent shift to hybrid working environments have underlined the value of cloud-based software for finance departments. Having the ability to connect anytime and almost anywhere supports smoother operations with less chance of disruptions. It can reduce the total cost of ownership by eliminating the overhead associated with managing an on-premises application such as the hardware and staffing required to support the software and hardware. It achieves faster time to value because implementation times are typically shorter. Equally important, cloud deployment can substantially improve the performance of an application because it's usually running in a modern, well-maintained environment. The software is frequently updated, and resources can be scaled up and down to match workloads. Buyers have come to understand that security in the cloud is more effective than on-premises because it's handled by vendors that can afford to have security specialists on staff and because spreadsheets circulating through emails are vulnerable to inadvertent or malicious disclosure.
I strongly recommend that CFOs in midsize companies invest in software that enables them to scale their business without having to increase administrative headcount. They should find ways to reduce manual processes to accelerate reporting and analysis. They should focus their staff on work that increases the value of the department as a strategic partner to the rest of the company, such as making budgeting easier for the budget owner. Prophix is a financial performance management (FPM) suite that is designed specifically to meet the considerable requirements of midsize companies while respecting their limited financial and manpower resources. I recommend that midsize companies and divisions of larger corporations that are evaluating FPM suites consider Prophix.
Regards,
Robert Kugel