Prophix is a financial performance management (FPM) suite from Prophix Software offering statutory financial consolidation, planning, budgeting and reporting capabilities designed expressly for midsize companies and divisions of larger corporations. The chief financial officer of a midsize company faces a different set of challenges than those in larger corporations or small businesses. A midsize company typically has grown to the point where it must have capabilities similar to those of a large corporation but lacks the staff or financial resources that larger companies can afford. And when experiencing rapid growth, midsize companies typically will make investments in information technology that will allow them to scale without having to add administrative or support headcount.
The company recently issued the winter 2019 release of its product, offering an array of enhancements, including tailored dashboards, deeper integration with Microsoft Office, increased auditability and easier navigation through the application.
Prophix is a budgeting and planning platform that enables companies to connect all their planning activities, simplifying the process of collecting and consolidating planning data from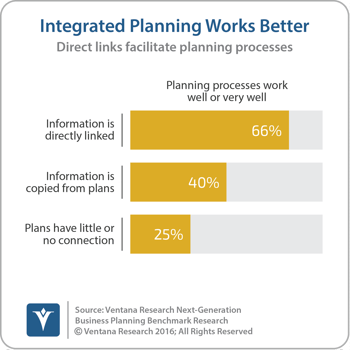 different business units into a company-wide view. The company was one of the first to offer a planning platform capable of bringing together financial and operational plans and data.
Our benchmark research on next-generation business planning finds that only 30 percent of midsize companies link detailed planning information directly to their budgets. Using a planning platform to integrate all planning data yields better results. Our research shows that two-thirds (66%) of companies that have planning processes where planning information is directly linked have planning processes that work well or very well. By comparison, only 40 percent of companies that copy data from individual plans said the same about their planning processes, as did only 25 percent that reported little or no connection.
With all data connected on a single platform, Prophix supports an approach to managing planning and budgeting processes that Ventana Research calls "predictive planning." This approach employs a unified data environment, workflows and advanced analytic technologies for more agile planning and budgeting processes. Predictive planning can increase the business value of budgeting by balancing financial with operational considerations rather than being almost exclusively financially focused.
Companies do a lot of planning in every department. Having all parts of the business use a single application that can adapt to the specific needs of each department yet connect them all to provide a single planning view increases the value of planning and budgeting. This enables financial planning and analysis (FP&A) groups to create a process that makes budgeting easier for the budget owner. Employing driver-based operational and financial models, predictive planning enables rapid updates to the consolidated plan. Changes in expected revenue are reflected immediately in forward financial forecasts. So, too, are changes in expected employee benefit costs, currency exchange rates, commodity prices and other factors.
Prophix also offers financial consolidation capabilities to support a faster accounting close without sacrificing accuracy. The generally accepted benchmark for closing a company's books is one business week. However, 59 percent of midsize companies said they take longer than that to complete their company's quarterly close process. Since all companies do essentially the same process, the close is a useful benchmark for the overall competence of a finance and accounting organization. Companies that take more than one week can accelerate their close by making changes to their process, training and the technology they use. Often, by exposing opportunities for improvement, changes in the close process will lead to performance improvements in other financial processes. Moreover, closing sooner provides executives and managers with information sooner so they can more quickly and effectively respond to opportunities and threats.
Modern financial consolidation and close software typically accelerates the process of consolidation of books for the close, provides greater control of calculations and automates what were once manual processes. Even midsize companies with a single ERP or financial management application may find that their software requires too many manual operations to close the books. If so, they should look into the benefits of an application that can perform the period-end consolidation.
Built-in workflows in Prophix enable finance departments to automate repetitive tasks, run them automatically, monitor processes to ensure they've been performed and manage exceptions so that they're attended to promptly. This includes activities such as planning and budgeting cycles, managing the accounting close and handling operations such as data imports from other systems. Workflow gives back valuable time to departmental staff and managers.
Prophix offers cloud and on-premises options. Increasingly, its customers are choosing the cloud for several reasons. Organizations that take this approach can reduce the total cost of ownership by eliminating the overhead associated with managing an on-premises application. They achieve faster time to value because implementation times typically are shorter. Equally important, cloud deployment can substantially improve the performance of an application because it's usually running in a modern, well-maintained environment. Software updates are frequent and resources can be scaled up and down to match workloads. Furthermore, buyers have come to understand that security in the cloud is more effective than on-premises because it's handled by vendors that can afford to have security specialists on staff and because it eliminates reliance on spreadsheets circulating through emails that are vulnerable to inadvertent or malicious disclosure.
I strongly recommend that CFOs in midsize companies invest in software that enables them to scale their business without having to increase administrative headcount. They should find ways to reduce manual processes to accelerate reporting and analysis. And they should focus their staff on work that increases the value of the department as a strategic partner to the rest of the corporation, such as bringing together financial and operational data to perform more operationally focused analysis that can provide deeper insight into their company's performance. Prophix is a financial performance management suite that is designed specifically to meet the considerable requirements of midsize companies while respecting their limited financial and people resources. I recommend that midsize companies and divisions of larger corporations that are evaluating FPM suites consider Prophix.
Regards,
Robert Kugel
SVP & Research Director