A professional services automation application marries front- and back-office functions, helping services organizations address core business challenges by ensuring that:
Projects are optimally staffed by those with the right skills.
Individual professionals are as productive as possible by maximizing their billable time within constraints (such as time required for improving their skills) as well as minimizing the time spent on handling administrative details (filling out timecards or expense reports).
Their skills are continuously enhanced through training, professional development and appropriate assignments.
Billing for their services is accurate and timely.
PSA software tracks revenue, operations and related costs, captures operational and financial data and provides dashboards and analytical tools that give executives and managers the ability to track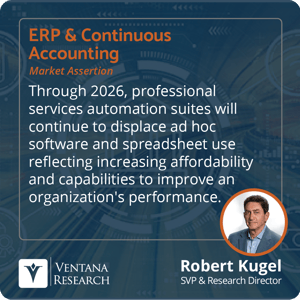 performance. The software reduces administrative overhead necessary to enhance organizational effectiveness, allowing professionals to focus more time on clients. Ventana Research asserts that through 2026, PSA suites will continue to displace ad hoc software and spreadsheet use, reflecting increasing affordability and capabilities to improve an organization's performance.
PSA software is especially advantageous for adjunct organizations that support the sale of a product, such as businesses that install, service or repair equipment in the field. It can manage services tasks better than an enterprise resource planning system and be less expensive to buy, implement and maintain. Integration with an ERP system can be straightforward, especially when using the PSA system as a subledger for accounting purposes. PSA software integrates the processes and data flows for the core functions of these of organizations. Having a single platform, especially one running in the cloud, reduces system management overhead and maintenance and promotes the smooth execution of tasks to improve performance and client satisfaction.
When PSA software emerged as a category in the 1990s, available technology was hardly advanced enough for its target market. For example, client-server software was much more time-consuming to implement and maintain, requiring IT staff. Integrating processes and data with other enterprise systems was difficult. Justifying an investment in PSA software required a relatively high number of billing professionals because of the substantial value of automation in dealing with administrative task volume and complexity as well as the greater ability to afford these systems because of the absolute amount of revenue generated by the organization.
Today, the cost and hassle of operating and maintaining these systems has decreased because of the cloud. Ventana Research asserts that through 2026, organizations will increasingly adopt cloud-based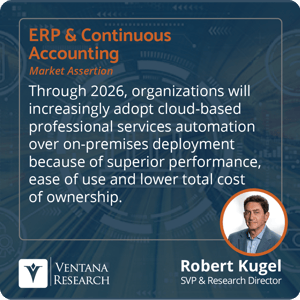 professional services automation over on-premises deployment because of superior performance, ease of use and lower total cost of ownership.
Moreover, technology has expanded the utility and functionality of PSA systems in ways that are particularly advantageous to service organizations. For example, smart phones provide a multitude of the time- and labor-saving capabilities, such as using the camera to automate data capture from paper receipts, automating timecard and expense reporting or quickly handling approvals and other administrative tasks anytime and anywhere. These capabilities improve efficiency and organizational effectiveness and make it practical to submit detailed bills to clients more frequently, which accelerates cash flow. Higher billing frequency has also been shown to reduce issues with clients or resolve them faster. Today's more advanced data integration and data handling functionalities provide broader and deeper visibility to executives and managers and allows greater ability to manage by exception. Incorporating configure, price and quote functionality speeds development of a prospective for clients that incorporates a hybrid set of deliverables, including conventional time and materials or fixed-fee engagements, subscription or consumption-based services and one-time product sales. Moreover, capturing this information digitally at the source enables systems to automatically create timely and accurate bills to clients without requiring reconciliations, and automates accurate revenue recognition.
A major challenge constraining the total addressable market for PSA software is making it more cost-effective for midsize and smaller organizations. A substantial majority of business services organizations in North America have fewer than 40 billing professionals, the lower end of the range below which it becomes increasingly difficult to justify the investment and expense of a system. Finding ways to make offerings more affordable and usable would expand the TAM.
Another challenge is changing habits. PSA software also competes with other approaches to manage these sorts of organizations, which might include a portfolio of applications for accounting and billing, expense management, marketing and sales, human capital management and spreadsheets. As organizations grow, they have a tendency to stick with the systems already in use because it's the expedient choice, even if a better alternative exists to address the needs of a larger group. Vendors must be able to make the case for migrating to a PSA platform to capture this type of customer at the optimal point in its growth.
I recommend that professional services companies with 40 or more billing professionals and service groups in larger organizations with more than 30 revenue-generating workers consider using a PSA platform to manage sales, operations and finance. I suggest that those evaluating the investment consider what the software can enable that isn't currently feasible, and how that can affect profitability, cash flow, professional development, client satisfaction and retention, business visibility and deeper insight sooner into the health of the business.
Regards,
Robert Kugel