OneStream XF from OneStream Software is a financial performance management (FPM) platform available on-premises or in the cloud. The company is a relative newcomer (it started in 2010) but its founders are industry veterans and it has a long list of referenceable customers. Being self-financed, it only recently began to raise its market profile. Its SmartCPM system consists of software for statutory financial consolidation, planning, forecasting, budgeting and reporting that's used primarily by midsize and larger corporations, including large multinationals with complex ownership structures. Designed as a platform, OneStream XF fits into the company's strategy to offer an array of financial applications developed by itself or third-parties that use a single authoritative source of data.
OneStream's strength is its consolidation system. In accounting, consolidation is the process of combining the financial results of two or more subsidiary companies into the financial results of the parent company. It is referred to as "statutory consolidation" because the methods used to combine the results are codified in accounting standards. Almost all midsize and larger corporations are made up of multiple legal entities and therefore must perform a consolidation as part of their periodic accounting close. The consolidation process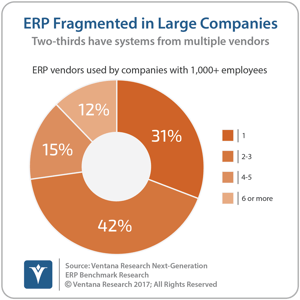 is complicated when subsidiaries or divisions use different software applications. Our Next-Generation ERP research found that more 69 percent of larger companies have multiple ERP systems; more than one-quarter (27%) have four or more.
The consolidation process becomes even more complicated when there are complex ownership structures, for example, where there are cross-ownership relationships such as when two companies own shares in one another, or when a corporation owns only part of an entity but is required to consolidate the shareholding in its financial statements. This happens when a company effects a partial spin-out of a division or has a joint venture with another corporation.
Software that performs consolidation accounting has been around since the 1980s, so the category's basic functionality has long since been commoditized. For larger companies, the most important characteristic of the system is its scalability, which is needed to address changes in the size and complexity of the organization as well as the number of users. Beyond that, corporations should be looking at the total cost of buying, implementing and maintaining the system as well as its flexibility in addressing their specific requirements. OneStream's consolidation system provides the capacity to handle large numbers of disparate general ledgers and the ability to comply simultaneously with US-GAAP and IFRS accounting standards. Companies evaluating consolidation software may find that OneStream is easier and less costly to implement than alternatives. And because of its flexibility, it may be easier and less expensive to adapt to evolving requirements over time.
Because the consolidation system holds the accounting records of a corporation, it provides authoritative data for financial reporting and analysis. And because the financial structures and business hierarchies in the consolidation system are also useful for business planning, OneStream XF serves as a platform that supports these planning processes. Its SmartCPM system performs budgeting, forecasting and business planning (OneStream partners offer sales, headcount, cash flow and capital expenditures tools). Reporting of actuals-versus-plans and budgets is simplified because the system works from a single set of up-to-date authoritative data.
Furthermore, the software's multidimensional data structure offers extensible dimensions. This enables organizations flexibility in the scope of business (not just financial) data that it uses for analysis and reporting and in how they structure reports and dashboards and organize users' ability to drill down and around the data in the system. The software also simplifies the management of allocations and supports driver-based planning and rolling-quarter forecasting.
OneStream is offered in a single- or multi-tenant cloud configuration. Some companies prefer the former in order to address concerns about security or scalability. Some corporations see scalability as an issue because consolidation systems' peak consumption of computing resources takes place within several days of the end of the month or the quarter.
The market for financial performance management software is mature and crowded and buyers have an abundance of choices when it comes to consolidation, planning, forecasting, budgeting and reporting software. The size of a company's software budget is a leading factor in selecting from the long list of vendors; Ventana Research recommends that buyers embrace a TCO approach that considers as well the ongoing costs of supporting, upgrading and adapting the system.
As important as cost, though, is understanding the full capabilities of the software package and how these features can be applied to improving core financial performance management functions. Often, corporations replace their consolidation system only when its performance is unsustainably poor or previous modifications have been so extensive that the cost of moving to a newer release merits examining other possibilities. However, a more modern consolidation package might make it feasible to shorten the close process, especially if the software enables a company to adopt a continuous-accounting approach to managing its accounting cycle.
Our research found that only 40 percent of companies can complete their close within six business days. The generally accepted benchmark is that this should be accomplished within one business week of the end of the period. The research also confirmed a correlation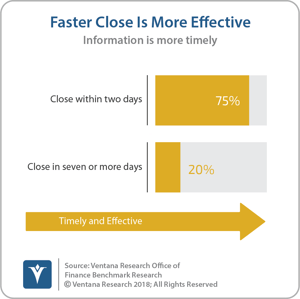 between how soon a company completes its close and the timeliness of the information the finance organization provides managers and executives: 75 percent of organizations that complete their close within two days of the end of the period can provide necessary and timely information, compared to just 20 percent that close in seven or more business days that can do the same.
Similarly, organizations that want to replace desktop spreadsheets for budgeting with a dedicated application often focus on addressing the difficulties imposed by spreadsheets rather than on how software can increase the value of corporate planning processes by improving their accuracy and agility. For example, dedicated planning software can facilitate the integration of departmental planning processes such as sales and headcount planning with financial planning and budgeting by having these functions share a common database. Our Next-Generation Planning benchmark research confirms that organizations that integrate these usually siloed departmental planning processes have planning processes that work better: Two-thirds (66%) of those that directly link all planning information from business units have a planning process that works well or very well, compared to 40 percent that copy planning data and just one-fourth that have little or no connection.
I recommend evaluation of OneStream by finance and accounting organizations that are considering replacing their financial consolidation system, especially larger organizations and those that have complex ownership and financial reporting requirements. Companies that find they must perform a major upgrade to their existing consolidation system should evaluate the time and cost of such an upgrade versus replacing it with OneStream as a consolidation system.
Regards,
Robert Kugel
Senior Vice President Research
Follow me on Twitter
and connect with me on LinkedIn.