FinancialForce offers cloud-based ERP and professional services automation (PSA) software. The company targets midsize and larger services companies, especially those that provide professional services (such as consultants or field service organizations) as well as those that offer subscription-based or recurring revenue services and products. FinancialForce's key point of differentiation is that it is built natively on the Salesforce platform, ensuring that CRM data is already located on the same platform as accounting and back-office data so organizations can orchestrate end-to-end, front-office to back-office processes without having to integrate different systems.
The company had a recent call with analysts to cover new developments, its Winter '23 release and some product roadmap information. New features in the latest release include Advanced Resource Management for the Professional Services (PS) Cloud that provides more flexibility and control for resource managers handling project staffing, especially in skills matching and resource utilization. In its ERP cloud, there are enhancements that intelligently automate manual tasks, facilitate close processes and accelerate planning and budgeting.
The call also covered steady progress in building out FinancialForce's capabilities and refining business processes supported by the software. A key go-to-market theme is its Services-as-a-Business approach that it describes as "excellence from opportunity to renewal," which contrasts with the more conventional "lead-to-cash" definition of an end-to-end process. This takes it upstream from a sale or contract to capture the process and data from the start of discussions and extends the ultimate objective beyond getting paid to achieving success in getting a renewal or sustaining the relationship. An important advantage to this end-to-end process approach is that it promotes accuracy and completeness in all interactions with customers. FinancialForce ensures that users are working from a single set of data at every point of contact with customers, helping to manage even intricate customer-focused processes to achieve seamless hand-offs and timely completion. User experience enhancements are a priority, especially in building in conversational interfaces — either voice or text — to facilitate interactions with the system.
The company's PS Cloud is designed to enable professional services organizations to reduce administrative workloads which is necessary to enhance organizational effectiveness, allowing professionals to focus more time on clients, reduce costs and accelerate cash flow. The software marries front- and back-office functions, helping consultancies, business services and the support and services arms of organizations focus more of their attention on serving clients. PS Cloud is designed to optimally manage staffing on projects to identify those with the right skills, ensure that individual professionals are as productive as possible by maximizing their billable time within constraints, ensure that the staff's skills are continuously enhanced through training, professional development and appropriate assignments, and billing for services is accurate and timely. The software tracks revenue sources, billable time and related costs, captures operational and financial data, and provides dashboards and analytical tools that give executives and managers the ability to track performance more effectively. A recent addition was configure, price and quote (CPQ) software designed for professional services. This enables organizations to quickly and accurately price a proposal that meets profitability targets while ensuring that the resources (such as consultants) necessary to fulfill the contract are available. Ventana Research asserts that through 2026, PSA suites will continue to displace ad hoc software and spreadsheet use, reflecting increasing affordability and capabilities to improve an organization's performance.
FinancialForce continues to build out the capabilities of its Customer Success (CS) Cloud offering in the current release. Subscription and recurring revenue business models have been widely adopted and one reason
is to sustain an ongoing relationship with the customer. Our Recurring Revenue Benchmark Research finds that, along with the desire to increase revenue, organizations adopt subscriptions and recurring revenue models to improve the customer experience (chosen by 68% of participants), increase customers (56%) and increase customer loyalty (53%). They have discovered that achieving these objectives requires diligence in managing their customer success organization, which translates into having defined processes and measuring performance to objectives. Along with being able to retain customers and reduce their churn, another objective is to increase the revenue from each customer, which means getting them to increase their consumption of a good or service (such as the unit volume of some material or the number of users).
FinancialForce's ERP Cloud can be used by services businesses of all kinds but is especially useful for subscription and recurring revenue companies as it is designed specifically for end-to-end management of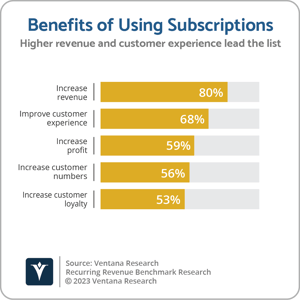 interactions with customers from opportunity to renewal. An important element of the software is its ability to unify billing, revenue management and accounting operations, simplifying billing for customers who purchase services and goods with different revenue models (such as one-time and usage-based charges in addition to recurring) and allowing a company to present a single invoice, which most customers appreciate and is easier to manage in accounting and accounts receivables. The software also handles revenue recognition under the latest U.S. and international accounting standards, which can be complex for the company's target customers.
FinancialForce's platform also offers analytics and dashboards. Its Financial Planning and Analysis product enables organizations to plan their business, create a financial budget and rapidly analyze and report on results. Its procurement software is designed specifically for professional services to manage spend. And its order and inventory management software supports the core ERP functions of order and inventory management to reduce frictions in buying and ensuring optimal stocks of goods and materials.
I recommend that professional services companies with 50 or more billing professionals as well as midsize-to-small enterprise services companies that are contemplating acquiring cloud-based PSA or financial management software consider FinancialForce. So, too, should companies that have added or are planning to add subscription or recurring revenue services as a business model. These organizations should evaluate whether and how well their core financial management system can handle this business model and whether using a separate software package as, in effect, a subledger has a lower total cost of ownership than modifying the existing financial management system. The same consideration should apply to larger enterprises that have professional services or field service groups. A separate application is a proven approach that can improve customer services while reducing administrative and accounting workloads.
Regards,
Robert Kugel