FinancialForce offers cloud-based ERP and professional services automation (PSA) software. The company targets midsize and larger services companies, especially those that provide professional services (such as consultants or field service organizations), subscription-based or recurring revenue services. FinancialForce's key point of differentiation is that it is built natively on the Salesforce platform. Thus, CRM data is already located on the same platform as accounting and back-office data so organizations can orchestrate end-to-end front-office to back-office processes without having to integrate different systems.
Operating on a common platform enables services companies to achieve better customer service, lowers the cost of ownership and facilitates end-to-end process integration (opportunity-to-cash, for instance). Customer service is enhanced because, for example, in subscription or recurring revenue businesses marketing and sales have the freedom to create offers that address market requirements without having a negative impact on billing and accounting processes. In professional services, operating on a single platform connects selling, fulfilling and billing processes, which promotes billing accuracy and can accelerate cash flow.
FinancialForce recently announced its Fall 2018 release, which features three notable additions and one major enhancement that improve its business value to services and professional services businesses.
One addition is an expansion of its use of Salesforce's Einstein columnar database for embedded business analytics, which the company unveiled at its Community Live user group event last spring. Einstein can scale to enterprise requirements and is effective in rapidly serving up business analytics and customizable dashboards that provide insight into a company's financial and operational performance.
The Fall 2018 release adds PSA Analytics, a packaged set of analytics, dashboards and reports built on Einstein. It offers a broad set of key performance indicators designed for services and professional services businesses. Beyond its value for performance measurement and monitoring, organizations can use PSA Analytics to improve the utilization of billing professionals. When an organization has built-in skills searching tools and visibility into the sales pipeline, backlogs and scheduled capacity it can identify and assign necessary resources to projects faster and quickly adjust staffing as circumstances change. The release also provides users of the Financial Management application with improved role-based dashboards and reporting capabilities. With these reports users can drill into the underlying details to understand the numbers behind the numbers. FinancialForce customers do not have to purchase a separate Einstein license for this functionality.
The second addition is the switch to Salesforce's Lightning user interface. Lightning is designed to speed up navigating through and interacting with the system. It offers a more modern look and greater personalization of the UI. Lightening also provides better support for mobile capabilities.
A third less obvious addition is the Integration Hub, which offers API integrations between FinancialForce and third-party business applications. This simplifies data and (to a degree) process integration between FinancialForce and business software that is not Salesforce-native.
Subscription & Usage Billing, software that unifies billing, revenue management and accounting operations, received important enhancements in the Fall 2018 release. These enhancements enable companies to simplify their billing for customers who purchase services and goods with different revenue models (such as one-time and usage-based charges in addition to recurring). This allows a company to present a single invoice, which most customers appreciate and is easier to manage in accounting and accounts receivables.
Growing demand for dedicated billing systems reflects the expansion of the subscription economy, which is driven by a growing preference for flexibility in how businesses and individuals consume products or services. In response, companies are offering more intricate and variable contract structures. Billing software has become a necessity for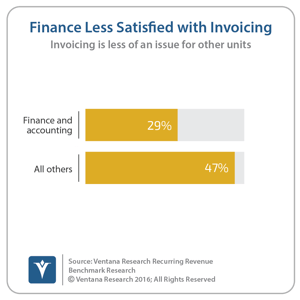 subscription and recurring revenue businesses because they flexibly handle even complex offers and because the billing process is always accurate and complete.
In addition, Subscription & Usage Billing addresses an accounting department issue that we identified in our Recurring Revenue benchmark research. Although all ERP systems can invoice and bill for individual product and service transactions, few are capable of managing the invoicing and billing process for anything but the simplest subscription configurations. Consequently, accountants experience heavy workloads as they use spreadsheets as a workaround to manage the process. For that reason, only 29 percent of those working in finance and accounting said they were satisfied with their billing and invoicing processes.
I recommend that professional services companies with 50 or more billing professionals as well as midsize to small enterprise services companies that are contemplating acquiring cloud-based PSA or financial management software consider FinancialForce. So, too, should companies that have added or are planning to add subscription or recurring revenue services as a business model. These organizations should plan to use a separate, second-tier back office software package that can manage this type of business if their existing ERP system cannot. The same applies to larger enterprises that have professional services or field service groups. A separate application is a proven approach that can improve customer services while reducing administrative and accounting workloads.
Regards,
Robert Kugel
SVP & Research Director