Ventana Research recently announced the results of its latest Benchmark Research, Next-Generation ERP. The enterprise resource planning (ERP) system is at the core of nearly every company's record-keeping and management of business processes. Its smooth and uninterrupted functioning is essential to an organization's accounting and finance functions. In manufacturing and distribution, ERP manages inventory and logistics. Some companies use it to handle human resources functions like tracking employees, payroll and related costs.
ERP systems were a major advance in business computing when they emerged in the 1990s, but they have been slow to evolve since them. This is partly the result of their unavoidable complexity and partly because many of the subsequent technology advances have yielded only incremental improvements. Now, however, after more than a decade of steady developments, ERP systems have begun to change fundamentally, facilitated by the growing availability of new technologies including cloud computing, database design, collaboration, mobility, analytics and planning, which together have the potential to address shortcomings and the most common complaints in today's systems.
The technology changes are unfolding against the backdrop of a demographic shift that is taking place in the ranks of senior executives and managers. Baby boomers are retiring, replaced by a generation who grew up with computer technology. Those just entering the workforce have never experienced a world without the internet. Consequently, expectations for how software should behave have never been more demanding, stoked by familiarity with user-friendly consumer applications. This demand is putting pressure on vendors to offer software that is both more capable and easier to use.
Yet the findings of our new research suggest that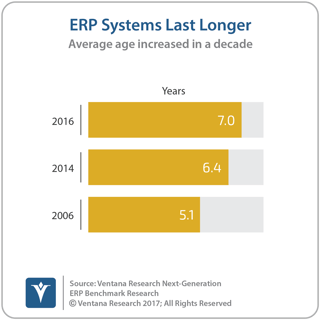 improvements may take a while to show up. Companies are holding onto their ERP systems longer than before. The average age of the research participants' main ERP system is seven years, almost two years older than the 5.1 years we measured in our 2006 research. The slow evolution of technologies underpinning ERP systems may be one reason why the average age is lengthening. Another may be that most companies are keeping their systems up-to-date: Nearly two-thirds (64%) said they have made a major change to their system within the last two years. Just 8 percent of those that implemented their system three or more years ago have not made a major change.
One of our main objectives in this research was to gauge the market's appetite for a "better" ERP experience. As an era of incremental improvements gives way to a period with the potential for more significant changes, we wanted to assess the degree to which users are or aren't satisfied with ERP systems. Dissatisfaction could be a motivation to replace their existing systems with new ones sooner.
The data we collected presents a mixed picture. Working with ERP systems is notoriously complex, but users appear to have grown used to it. For example, a small majority (54%) said that their system is easy enough to work with but probably could be improved. This response suggests an attitude of "making do" with the hope for something better. Just 19 percent said that working with their ERP system is easy, while 27 percent said it isn't easy enough or is difficult.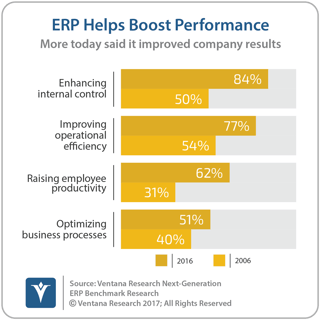 Another objective was to compare the experiences and attitudes of today's users with those of a decade ago by comparing the results of this benchmark with the research we conducted in 2006. We find that there have been changes for the better. Today's users more often said that their ERP system has had a measurable positive impact on their company's performance. For example, 84 percent of participants said that their ERP system has enhanced internal controls, significantly more than the 50 percent who said this previously. In 2006, companies were still grappling with complying with the Sarbanes-Oxley Act, which mandated more effective financial controls. Over the past decade it appears that considerably more of them have used their ERP system as a means of achieving the needed level of control.
Similarly, 77 percent now credited their ERP software with improving operational efficiency, compared to 54 percent in 2006. And twice as many as a decade ago said that the system has improved employee productivity (62% vs. 31%). There are probably two factors at work here. One is that, in my experience, the learning curve with business computing systems such as ERP is steeper than most assume. It takes time for people to become proficient and even more time for companies to take advantage of a system's capabilities to streamline and automate processes. The other is that gains in efficiency usually come in the form of avoided costs, which take years to become obvious.
Nonetheless, major shortcomings persist. For example, only one in five (19%) research participants said that their primary ERP system works very well. This isn't much better than the 12 percent who said that a decade ago. And only 19 percent said working with it is as easy as one could expect, essentially unchanged from the 20 percent recorded 10 years ago. I'll detail more the pains companies still experience with their ERP systems in an upcoming analyst perspective.
Enterprise resource planning is a bedrock technology for almost all industries and all but the smallest organizations. Evolving technologies will make these systems more capable and easier to work with. Moreover, the nature of business and services is changing, as are the expectations of customers and employees. Most ERP vendors recognize the need to innovate or be left behind, but good intentions aren't enough. Their ability to deliver next-generation capabilities will determine the winners and losers in this category. Please follow me as I track the progress of systems for this critical software.
Regards,
Robert Kugel
Senior Vice President Research
Follow me on Twitter @rdkugelVR
and connect with me on LinkedIn.