Vertical strategies for enterprise resource planning systems are not new. They emerged more than two decades ago as vendors looked for ways to reduce costs and shorten time-to-value in a software category that was notorious for high costs and extended timelines. A vertical-plus strategy – the plus means it's a platform, not just an application – takes advantage of recently available technology to extend the ease of implementation and maintenance of the system by having deeper integration with complementary applications, available low-code/no-code customization capabilities and a data pantry that enables the amalgamation of data from multiple sources for situational awareness and decision support. Moreover, the ongoing shift from on-premises to cloud-based ERP systems, especially those designed to address specific types of businesses, will accelerate over the next five years as more configurable and customizable systems designed for specific business verticals become available. A cloud-based platform facilitates the creation of a digital ecosystem that can enable a software vendor's users to enhance customer experiences.
Epicor is positioned to take advantage of these trends. Epicor is an ERP software vendor focused on a specific set of vertical industries. It summarizes these as companies that "make, move or sell," although the last refers mainly to distributors. Its specific focus is on automotive, retail, building supply and product distribution as well as process, build-to-stock and build-to-order manufacturing.
Our Next Generation ERP Benchmark Research found that the average age of these systems is 7 years, which means that about one-half of ERP systems are older. Age and satisfaction with ERP performance are related.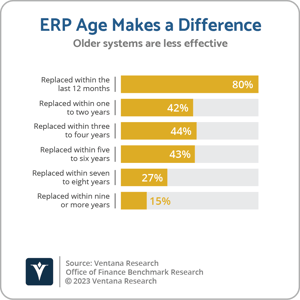 Our Office of Finance Benchmark Research found that while 43% of organizations with a system that's between one and six years old say ERP software works very well, just 18% of those with a system that's seven years old or older say that's the case. I expect that replacement demand for ERP systems will accelerate over the next three years as organizations find existing software no longer performs well enough. This will be especially true for product-focused companies that have delayed moving systems to the cloud and now find an application that fits specific needs as well (and probably better) than existing software.
Details matter when it comes to ERP systems. Especially within a broad industry category like "automotive," there are significant subverticals, each with unique requirements. So, companies that make or distribute vehicle parts, either sold to original equipment manufacturers or in the aftermarket, have distinct needs, as do automotive service and repair entities. Other manufacturing subverticals include medical devices, rubber and plastics, aerospace and defense, construction and engineering as well as electronics and high technology.
Although there is a degree of commonality between subverticals in the building supply industry, Epicor specifically addresses the needs of construction material suppliers and metal service centers – two types of businesses where consolidation strategies for market share or efficiency gains depend on advanced systems for successful execution. Similarly, the company offers software to meet the needs for a wide range of distribution organizations or divisions in areas such as fasteners, fluid power and heating, ventilation and air conditioning (or HVAC).
In the retail arena, the software is used by a range of home and garden categories, either for consumers or professionals. It's used in pharmacy, sporting goods, pet and specialty retailers. In an era of big-box chains, smaller retailers that use technology effectively have continued to thrive, especially those that are able to effectively manage in-store, online and hybrid models.
Epicor has made focused acquisitions to accelerate the build-out of its platform. One notable example was KB Max, which adds visual configure, price and quote capabilities. CPQ is designed to help salespeople quickly provide product options and bundles that are valid (to avoid offering combinations that do not work or are not sold together) and are accurately priced. Going beyond standard configuration capabilities, visualization provides an interactive buying experience that gives prospective buyers a more immersive experience. The system can also generate computer-aided design drawings, product renderings, bills of material, parts lists and assembly instructions. CPQ is especially useful for distribution businesses, but also serves the needs of other organizations, especially those offering customizable or highly configurable products. CPQ also supports a continuous accounting methodology for finance departments, which promotes departmental efficiency while improving control and ensuring financial statement integrity.
A successful platform strategy enables a vendor to easily work with third parties to rapidly create products and services that are complementary to its core technology, adding value to both parties' offerings. A platform in this sense can also be used to facilitate interactions between a vendor's customers, enabling trusted transactions and creating value through a network effect. A platform approach to architecture will be particularly important for ERP vendors addressing product-focused verticals because of the increasing availability of sensors and devices that substantially boost productivity, enhance quality or improve user experience. For example, while the attraction of the metaverse as a consumer product is still uncertain, augmented reality devices and their use in spatial computing will be highly valuable in organizations that make, move or sell physical goods.
The ERP market is both mature and highly competitive, and buyers have a wealth of choices for deploying on premises or in the cloud, or to select a vendor that explicitly supports their type of business or offers a more general application. To remain competitive, Epicor needs to successfully build out the platform of capabilities – either internally or through continued use of focused acquisitions. The acquisition of Grow.com in March 2022 introduced new business intelligence capabilities in the cloud, but has yet to fully integrate seamlessly with its ERP offering and marketing efforts.
The useful and successful application of artificial intelligence will be an increasingly important source of differentiation, particularly in managing inventories, supply chains, logistics and administration – especially in process management.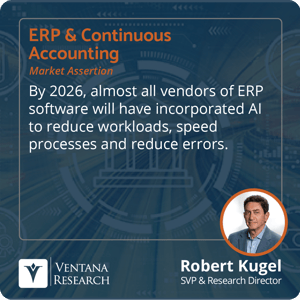 Ventana Research asserts that by 2026, almost all vendors of ERP software will incorporate AI to reduce workloads, speed processes and reduce errors. Epicor has already made steps in these directions, but the bar will be constantly rising and require rapid innovation, especially in enabling systems to streamline processes, automating tasks that are repetitive while simplifying choices for individuals where situations are ambiguous or where there is no substitute for judgment and experience. Organizations that are product oriented can also benefit from incorporating complementary technologies such as augmented reality for warehouse operations or sales. Epicor also needs to examine and invest further in managing its product catalogs and relating information to ensure it can meet distributed and enterprise requirements for product information processes.
I recommend that all product-focused companies that operate ERP systems on premises evaluate whether replacing these with a cloud-based system can achieve better functionality and performance in the context of a superior cost-benefit relationship. Epicor has yet to communicate its commitment to providing great customer experiences for a longer-term recurring subscription relationship, though customer conversations have demonstrated its approach through engagement and transition to cloud-based ERP deployment. In some cases, vendors are able to offer half-steps where an organization keeps some of the capabilities on premises while replacing or building out incremental enhancements in the cloud. Epicor's efforts to enrich its vertical industry approach related to manufacturing through its platform and data-related applications will help it further its impact to the market.
Regards,
Robert Kugel