Digital transformation of the Office of Finance has been a recurring theme for several years, but adoption accelerated when offices were locked down and organizations had to collaborate remotely. It involves shifting manual work, often completed via spreadsheets circulating in emails, to software and systems for improved performance.
A practical approach to the transformation process involves a series of initiatives rather than a single, big effort to overhaul the department. That's because it's usually difficult to free up staff time for transformation projects while still having enough time to complete the essential, day-to-day work. Moreover, a step-by-step approach enables departments to apply lessons learned, such as establishing timelines or project management techniques. An organization should assess the order in which it will transform its operations and give priority to high-payoff and limited-risk efforts.
Purchasing is a good place to start. The procurement function typically reports to the chief financial officer in non-manufacturing organizations and even in many businesses that deal in physical products. Beyond the obvious efficiency and cost-saving benefits, digital transformation of purchasing enables organizations to reduce supplier risk, gain deeper visibility into supply chains, reduce process cycle time and achieve more effective sourcing, especially in business services.
Purchasing ought to be a priority for digital transformation because, in most organizations, the function continues to operate primarily as it did in the middle of the 20th century. Purchasing should ensure that it is serving the organization's needs in at least two vital respects: For its direct or strategic purchasing (goods and services that are an integral part of its offerings), it should be the informed buyer whose knowledge enables an organization to improve the quality, performance and cost of its products and services. Purchasing also should simplify the acquisition of so-called indirect goods and services (such as computers and office supplies) while minimizing their cost and controlling outlays.
Purchasing departments can play a more active, productive role across an organization's business system. Based on knowledge of markets and vendors, it can advise R&D departments on technical developments and pricing trends that will affect, for example, product cost, functionality, durability, producibility and serviceability. In manufacturing and logistics, it can find ways to consolidate purchases with a limited number of vendors to take advantage of volume discounts. Departments that specialize in advertising and digital marketing can play an integral role with product managers in developing differentiated strategies.
On the indirect side, finance and accounting departments devote a considerable amount of time to handling and controlling costs. In many organizations these outlays account for a significant share of operating expense, and heavy transaction volumes can be challenging. Managers must have timely insight into the details of any transaction. And to ensure compliance with indirect spend policies, the department should make the process as easy and seamless as possible.
Purchasing executives who want to transform their department's mission should recognize the important role that software can play. By streamlining processes and reducing frictions that are inherent in manual systems, dedicated applications can make purchasing an enabler rather than a roadblock for managers and workers. To encourage use, the software should make it possible for authorized users to access the system from mobile devices such as smart phones and tablets as well as desktops and laptops.
In strategic purchasing and sourcing, a dedicated application manages the process end-to-end, giving purchasing executives a full view of the portfolio of active and planned purchasing projects. A single, centralized system with workflows ensures that purchasing projects and requests are routed to the right individuals and handoffs between people and departments are always crisp. Workflows also automate exceptions and escalations. Managing processes, supplier relationships and contractual obligations becomes easier through increased visibility. The software provides alerts when issues arise — such as tasks aren't started on time or processes are falling behind schedule.
Collaboration between departments in strategic purchasing is essential. The best software enables cross-functional teams to share information and use it to record deliberations and store and access documents. This gives everyone ready access to the information they need related to the purchase rather than having to hunt through scattered spreadsheets and emails. Consolidating all purchasing-related data in a single system also allows departments to more easily analyze their performance. Ventana Research asserts that by 2025 only one-third of organizations will have digitally transformed sourcing and purchasing. Those that do will achieve material savings in money and time.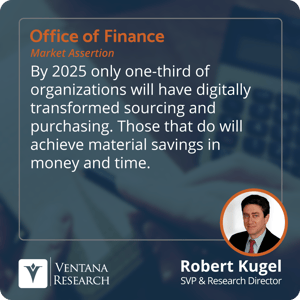 Outlays for the purchase of indirect goods and services may seem trivial to executives, but can add up to a significant share of controllable expenses. Software that automates the procure-to-pay process makes it easier for workers to comply with policies while providing finance organizations with greater control to achieve volume discounts and avert wasteful spending. Increasingly sophisticated payment card systems can strengthen controls while reducing administration costs and providing workers with the flexibility they need. Using a dedicated application for indirect spend management makes it easier to handle the high volume of indirect purchases. It aggregates expense data that otherwise may be scattered and inconsistent, making it easier to spot and manage out-of-compliance purchasing. The software automates data capture to substantially improve accuracy and timeliness.
Organizations considering digital transformation of procurement should expect improved performance through:
Cost savings, since maverick spend is reduced and tracking discounts against invoiced prices is managed by exception.
Reduced risk, because visibility exposes future cash commitments and identifies bad actors in the purchasing process.
Increased efficiency through automation, management by exception and greater accuracy.
Greater control as systems make compliance considerably easier.
Improved departmental effectiveness by fostering better collaboration between sourcing and procurement and the rest of the organization.
For these reasons, I recommend CFOs and purchasing professionals carefully evaluate current processes and the systems that support them and identify opportunities to apply digital transformation.
Regards,
Robert Kugel