BlackLine recently held its first virtual user conference, Beyond the Black, where it detailed numerous additions and enhancements to its applications. Of note was the launch of BlackLine Cash Application, an accounts receivable (AR) processing software based on software originally developed by recently acquired Rimilia. The new application fits the company's product strategy of providing accounting departments with software that automates time-consuming repetitive tasks and substantially reduces the amount of detail that individuals must handle in performing core processes.
The phrase "the devil is in the details" is the bane of accountants, especially in managing the close-to-report phase of the accounting cycle. This phase spans the entirety of pre-close activities to the publication of the financial statements. The nonpractitioner is likely unaware of the hair-curling quantity of essential detail that the finance and accounting organization must handle. Beyond its toll on efficiency, the time and attention involved in performing this work manually bedevils the departments' attempts to become a more strategic partner to the rest of the business.
Managing receivables well is necessary to handle working capital efficiently and to minimize credit losses, as I commented on earlier. Manually matching a specific payment received to a specific invoice is time consuming, tedious and error-prone. It gets complicated when the data accompanying the payment is incomplete or doesn't exactly match what's on the invoice. Accounting departments have better things to spend time than doing low-value tasks such as manual data entry, hunting down remittances, resolving exceptions and posting receivables.
Software can simplify and speed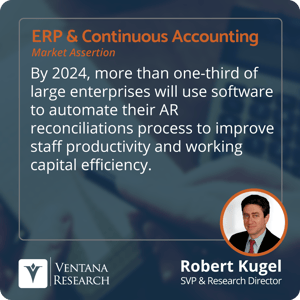 up the reconciliation process while still ensuring accuracy by automating transaction matching. Ventana Research asserts that by 2024, more than one-third of large enterprises will use software to automate their AR reconciliations process to improve staff productivity and working capital efficiency. Our recent Office of Finance research also confirms our assertion where we found that 65% of organizations have some form of reconciliation software, up from 35% five years earlier. This demonstrates that companies are willing to invest in accounting productivity tools.
BlackLine Cash Application (BCA) is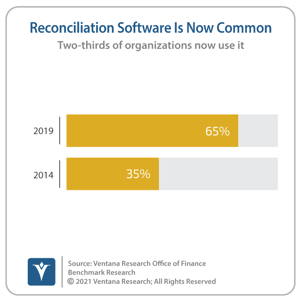 designed to simplify the Order-To-Cash Process by leveraging artificial intelligence to automatically match customer payments to invoices and reduce unapplied cash so that organizations can rapidly manage cash flow and cash collections. BCA brings intelligent automation to the collection, application and predictability of cash so CFOs and controllers can reduce staff workloads and focus their attention on minimizing risk and increasing business agility and resilience. Over time, machine learning enables increasingly higher levels of accurate matching to further reduce workloads.
BCA is a good fit for BlackLine's existing portfolio. The company's transaction matching software analyzes and reconciles high volumes of individual transactions from different sources of data based upon user-configured logic. The software can automatically identify exceptions, errors, missing data and variances within massive data sets. Its Daily Reconciliations narrows the scope to a single day's transactions or balance detail. Users can then perform their analysis in minutes per day rather than attempting to review an entire month's worth of activity in the limited time during the period-end close. Performing reconciliations daily rather than all at once is a prime example of continuous accounting in action.
BlackLine Account Analysis was another significant product announcement. BAA is designed to be a risk management solution that can analyze transactions in high volume accounts, identify missing transactions and post journals to the general ledger. Exceptions, such as aged items, are surfaced with clear action plans so they can be investigated, explained and resolved by Accounting team members. Unfortunately, these exceptions are handled on spreadsheets as part of a traditional reconciliation process that often leads to errors.
BlackLine also announced enhancements to its user interface to improve the user experience. Additionally, the company has started to offer an application programming interface (API) portal that makes it possible for developers to integrate data, workflows and communication streams between BlackLine and other applications and data sources. With this addition, it will be easier to optimize and automate end-to-end accounting and financial use cases.
Organizations that are considering applying more automation to their close process and evaluating vendors should include AR reconciliations in their vendor selection criteria. I recommend that new and existing BlackLine customers assess adopting BCA for their AR needs.
Regards,
Robert Kugel