Anaplan recently held Anaplan Hub, its annual user group meeting. The company offers a cloud-based business planning platform that incorporates a modeling and calculation engine. The tool makes it relatively easy to add or expand the scope of plans that can be connected and monitored as a central source. Companies typically use Anaplan software for financial planning or budgeting, sales, workforce, marketing and IT planning. These are the types of plans in which companies often need to create models that incorporate their specific requirements, their strategy and their business systems.
The company has been growing rapidly. The company says that it has 660 customers now, after adding 250 new ones in the past year. To date, the large majority of its users are in finance (50%) or sales departments (30%). These are areas where the company has existing applications that companies can adapt to their own requirements.
Anaplan uses the term "use case" to cover an individual planning application. For instance, it may be a financial budget, a sales compensation model or a marketing plan. The company asserts that 5 percent of its customers have deployed 10 or more use cases and 45 percent have three or more. Many organizations have room for expanding the use of a planning hub. For example, Anaplan offers a sales and operations planning (S&OP) application that is well suited to the large number of companies that need to integrate their supply chain and demand chain planning to quickly create and revise inventory plans.
Anaplan doesn't just aim to satisfy the needs of companies with the most complex and demanding requirements (which were much in evidence at Hub). It also can help organizations currently using spreadsheets for a wide range of departmental planning requirements to adopt an application that eliminates the many issues those desktop tools impose. For example, spreadsheets are two-dimensional grids; this lack of dimensionality makes it time-consuming and difficult to manage the process of balancing supply and demand, updating plans, assessing contingencies and reporting. Anaplan's S&OP application is designed to start simple and build out to adapt to the organization's needs.
An important new theme at this year's user group meeting was "connected planning" that it announced to communicate its products direction. A connected planning platform goes beyond providing all parts of a company with a common modeling, planning and reporting technology infrastructure to enable individual business units to craft their own plans. It also enables each planning unit to link their and others' plans. For example, the sales organization can forecast revenues month by month, and the financial planning and analysis (FP&A) group can use these frequent updates to quickly revise its financial plans. A common planning platform supports a continuous planning approach that enables companies to substantially shorten their planning, updating and reviewing cycles. This, in turn, enhances an organization's agility by cutting the time it takes to respond to new issues and opportunities.
Connected planning goes beyond integrated business planning, a term I started using in 2009 to describe a process and its supporting technology that gives individual business units a common planning platform. (Others subsequently used it as a synonym for S&OP.) Individual business units can use such a platform to create and manage their individual plans in much the same way as they always have while avoiding the challenges of spreadsheet-based budgeting, an issue I have written about. It also facilitates the integration of individual planning silos. This integration aims to make individual business unit plans more accurate because they can be informed by the outlook and intentions of other parts of the business. For instance, every unit can forecast its head-count requirements and translate that into head-count costs for budgeting purposes based on the HR department's projected salary and benefit costs by employee type and by region. The HR department, in turn, can project hiring and development needs more accurately throughout the year because the business units are continually updating their employment outlook. Another example is integrating individual business unit or regional pricing plans to better inform the deal desk, the function in the sales organization that handles requests for nonstandard pricing, terms and conditions.
Our benchmark research on next-generation business planning finds a correlation between the degree to which plans are directly linked and the quality of the planning process. Two-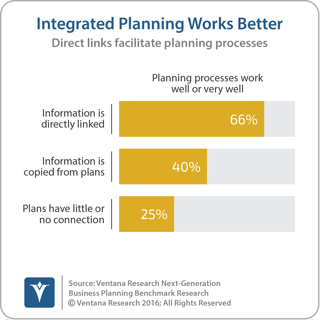 thirds (66%) of companies that directly link individual plans said they have a planning process that works well or very well, compared to 40 percent that copy the information from individual plans and just 25 percent whose plans have little or no connection to one another.
Connected planning represents a step beyond technology enablement. It is management-led high-participation planning that drives active integration to transcend the typical siloed mindset that limits the effectiveness of company planning. Connected planning promotes action-oriented plans. It increases accountability because it isn't a top-down approach: Business units and managers are a key part of the planning process.
Connected planning is a long way from becoming the norm. Spreadsheets still dominate the planning process, as our research reveals.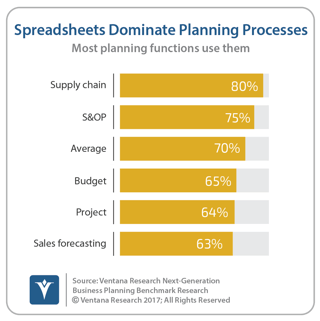 Four out of five companies use them for supply chain planning, two-thirds (65%) depend on them for budgeting, and 63 percent build their sales forecasts on spreadsheets. Desktop spreadsheets create a barrier to connected planning because it's inherently difficult and time-consuming to consolidate them into a single view of the data. Moreover, different business units often use different terminology for essentially the same thing or the same language to describe different things. (For instance, does "sales" mean gross or net sales or does it mean bookings?) An integrated business planning platform facilitates connections than make amalgamating plans easier. It enforces consistency that makes a company- or division-wide planning, reporting and reviewing process feasible, fast and repeatable.
There is a large market opportunity for replacing the many spreadsheet-supported processes with software that can be used for the model, analyze and report elements of a business process, even if it doesn't manage and administer the process itself. Many organizations perceive the benefits from investing in a dedicated application as insufficient to justify the investment. Consequently, they continue to use spreadsheets. In many cases, though, software that offers more powerful modeling and analysis capabilities than spreadsheets but doesn't require professional IT skills would be a better choice.
Anaplan has potential to address this segment of the market. For example, one customer who spoke at Hub uses Anaplan to forecast demand for call center agents. Since inbound call volumes increase in periods when the company has special offers, using data about past and future special marketing offers helps to accurately project demand. This sort of forecasting app is not a full-blown call center management application, but it presents a way to replace the myriad disconnected spreadsheets that are used throughout a company to forecast, plan and review. In these cases, a dedicated solution built on a central planning platform that addresses an organization's specific needs may also be attractive because it doesn't require integrating disparate applications.
Connected planning can improve corporate performance. The term itself represents an important change in the conversation. Planning is a team sport, a structured dialogue between individuals in an organization that uses numbers to describe expectations, needs and constraints. Budgeting and planning of all types traditionally have been inwardly focused at the business-unit level. Desktop spreadsheets reinforce silo-based planning becauase of the difficulties they pose in combining them to create a consolidatied enterprise-wide view. However, despite the noble intention, connected planning faces two major obstacles.
One is that silo-based planning is an ingrained habit that is difficult to overcome. Not everyone wants to share information, to be held accountable or to rely on the forecasts of others to run their parts of the business. Like any other change management effort, connected planning requires attention from senior executives, which is not always easy to acquire.
A second obstacle is that while a tool such as Anaplan is much easier to master than traditional dedicated planning applications that require programming skills, it still is a step beyond the capabilities of most spreadsheet users. Not everyone who needs to forecast has good analytical skills to build useful models or can conceive of multidimensional business models. The company's general roadmap calls for creating ways for individuals who aren't modelers to have a persistent "sandbox" where they can construct simple two-dimensional grid models to complement existing models. Getting this right is critical to the company being able to expand its utilization in companies and thereby increasing its annual recurring revenue and fortifying its customer stickiness.
I recommend that organizations looking for ways to make a major improvement in any of their planning processes should evaluate how Anaplan can be useful. In particular, financial planning and analysis, sales, marketing and human resources groups that currently use spreadsheets to support their planning, reporting and analysis should evaluate Anaplan, both for its ability to make them more effective (not just more efficient) and for the potential for transforming their efforts into connected planning.
Regards,
Robert Kugel
Senior Vice President Research
Follow me on Twitter @rdkugelVR
and connect with me on LinkedIn.