Like other vendors of cloud-based ERP software, NetSuite offers the key benefits of software as a service (SaaS): a smaller upfront investment, faster time to value and potentially lower operating costs. Beyond that NetSuite's essential point of competitive differentiation from is broad functionality beyond financial management, including capabilities for customer relationship management (CRM), professional services automation (PSA) and human capital management (HCM). These components make it easier for businesses to manage processes from end to end (such as quote- or order-to-cash) as well as to have transactions and business data available in a single system in consistent forms and synchronized. This in turn facilitates real-time reporting, dashboards and the use of analytics that integrate a wider set of functional data. Midsize companies are most likely to benefit from this integration because typically they have smaller, less sophisticated IT staffs than larger ones. A side benefit of having a single, integrated data source is improvement of situational awareness and visibility for executives and managers. It also enables organizations to reduce their use of spreadsheets for stitching together processes, doing routine analyses and reporting. These sorts of activities waste valuable time and reduce an organization's agility.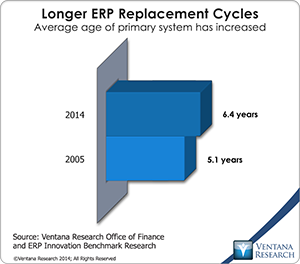 This year SuiteWorld (NetSuite's fourth annual user conference) was attended by some 6,500 people. This number as well as the company's $500 million in projected revenues are evidence that cloud-based ERP has become mainstream. Yet cloud deployments still have a limited share of the total ERP market and an even smaller share of the installed base. One reason is the ongoing (albeit diminishing) reluctance of finance organizations to use the cloud for mission-critical and data-sensitive tasks. The other is the slow replacement cycle for these major systems. Deploying any ERP system is time-consuming and expensive, so corporations prefer to change them only when the situation is urgent. Our forthcoming benchmark research on the Office of Finance shows that companies of all sizes are replacing their systems at a slower pace than before: The average age of an ERP system today is 6.4 years compared to 5.1 years a decade ago.
Companies that deploy their ERP system using a SaaS vendor can achieve faster time to value in part because they do not have to deal with hardware and software integration issues. Those that opt for a multitenant cloud approach can support their business needs without having to customize their ERP system, which is frequently the cause of very long deployment times. The challenge facing NetSuite and other ERP vendors with SaaS offerings is enabling more businesses to configure a range of elements so that the system meets the specific needs of their company and industry. Moreover, the next generation of ERP – the core financials, manufacturing, operations and distribution – must enable line-of-business people to modify the system to adapt to changing business environments and adjust business processes to reflect evolving internal requirements and adoption of new management methods.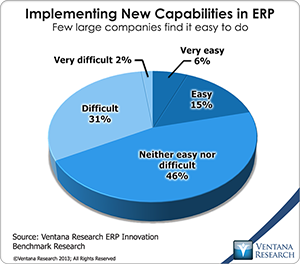 NetSuite's new SuiteGL moves in this direction. In our research on ERP innovation only 21 percent of large companies said it is easy or very easy to implement new capabilities in ERP systems, and one-third characterized it as difficult. Because of this, the current generation of ERP software is a barrier to innovation and improvement. To be sure, the initial configuration of and major modifications to a new ERP system almost always require a mix of external consulting, internal IT and business people to achieve the best outcome. But even here software vendors must radically reduce the system's setup cost. Today, the cost of implementation can be up to five times the cost of the software license. In the future, companies must be able to do this at a fraction of that. Cloud-based systems can enable these kinds of savings if managed properly and using the right set of applications.
At SuiteWorld, company executives pointed to a growing list of large customers. Partly for bombast but also to inspire buyer confidence, software vendors that sell to midsize businesses tout their larger customers even though these corporations almost always are buying the product for midsize business units. Since the 1990s, many larger entities have used a two-tier ERP strategy. That is, they buy a system designed for midsize companies because it would be too difficult or costly to implement and maintain their core ERP software at these locations. Cloud ERP is suited to tier-two use. Often, it is an attractive option because it requires no on-site servers or software that requiring maintenance and upgrades. Cloud-based systems make it easier to maintain financial and IT controls such as separation of duties and IT security but require integration at process and data levels to operate efficiently.
NetSuite also has incorporated the professional services automation (PSA) capabilities that it acquired in 2008 with OpenAir. Its Services Resource Planning is geared to professional services organizations such as consultants, engineers or architects as well as the professional services arms of larger organizations that can benefit from automating project management, resources management or time and cost accounting. In the past, relatively few professional services firms embraced a high level of automation in managing their business, partly because of the difficulty of implementing and managing on-premises software. Because they eliminate this aspect of software ownership, cloud-based systems work well for these types of organizations. Also, cloud systems are a more natural fit for the mobile nature of professional services business since the revenue-generating assets are professionals who are rarely in the office.
Since ERP systems require deep functional and technical expertise to configure and implement, good channel partners are essential to the success of any software vendor. NetSuite's channel efforts are gathering momentum, including accounting and audit firms with technology practices, specialized ERP resellers and business process outsourcing consultants. The ecosystem is growing, too, with application partners such as Kyriba for treasury management (which was awarded our Technology Innovation Award and received NetSuite's Partner of the Year award in 2014), and Coupa for spend management and electronic procurement. It also expanded its HRMS and talent management offering with the acquisition of TribeHR that helps human resources professionals. Gaining integration with NetSuite cuts the cost of implementation and ongoing maintenance in these and other areas as well as speeding time to value.
There are a couple of areas, though, where NetSuite needs to enhance its capabilities. Social media has quickly evolved from the one-to-many broadcast style of Facebook and Twitter to include options that enable specific, permissioned groups to easily communicate while retaining a record of these communications. NetSuite has some capabilities in this area but in particular it needs to concentrate on meeting the needs of people working in finance and accounting. As I've noted, finance organizations are social, but broadcast-style communications often is not appropriate. Groups may be broadly defined (say, everyone in accounting) or more narrowly focused (just those working on the close) or established for a specific project. These systems work best when functionality automatically adjusts to the context of the work the individual is performing. It should "know" when the individual is engaged in the accounting close, budgeting, billing and so on.
From the start NetSuite provided users with basic dashboard functionality to monitor the status of their part of the business. These capabilities have been updated in the current release of the NetSuite platform. While the improvements are necessary, greater investment must be made in enhancing its analytics and reporting. Facilitating the use of more effective analytics would also be useful, especially since its system captures a broad range of financial and operational data in real time in a single store or might need to be shared with other systems. NetSuite has a strategic relationship with Birst, a cloud-based vendor of analytics and business intelligence software, which offers Birst Express for NetSuite. Our most recent Mobile BI Value Index rated Birst as a Warm vendor – that is, it meets basic requirements well but does not offer the full range of available capabilities across smartphones and tablets and range of mobile technology platform providers.
Many companies are finding that cloud-based ERP has advantages. Not only can it have initial and ongoing cost savings and faster time to value, it eliminates the need to devote IT resources to what is a commodity-like operation and is better suited to many businesses with remote and multisite operations. Many will require integration to other business applications that could be on-premises or cloud-based ones that might require data or notification of completion. NetSuite also has functionality that supports the needs of businesses that make or distribute physical goods, which is more difficult to create than services. And cloud-based ERP is an option that any rapidly growing small business or a smaller midsize company (that is, one with 100 to 200 employees) should evaluate if its entry-level accounting software is not able to provide capabilities to manage the business effectively.
Regards,
Robert Kugel – SVP Research