From my perspective there were two significant takeaways from this year's SuiteWorld. The first is that, almost two years on from the announced acquisition of NetSuite by Oracle, the combination has achieved its immediate objectives in growing NetSuite's business, especially in Europe and Asia, and accelerating product development efforts. The second takeaway is that, at least for now, the unit appears to continue to operate as if the combination were a private equity investment by a public company.
At the time the deal was announced it struck me that there were three ways in which Oracle's acquisition could increase NetSuite's value. One was by taking advantage of Oracle's worldwide sales and cloud infrastructure. The second was the benefit of having access to Oracle's technology organization. The third was sharing software capabilities (for example, artificial intelligence using machine learning as well as conversational computing) and even applications wherever possible.
As an independent company, NetSuite would have incurred a significant incremental increase in operating expense if it had opened its own sales offices. The added cost and the time required to set up any new facility would have significantly constrained its ability to expand its sales efforts outside the U.S. Piggybacking on Oracle's existing office network and even changing sales reps' business cards from Oracle to NetSuite was a frugal bet. Similarly, NetSuite has been able to utilize Oracle's worldwide cloud data centers to support its customers outside North America, further cutting the incremental cost of its international sales efforts.
NetSuite also has increased its spending on R&D faster than it has grown in sales. This was necessary because it needed to address overdue improvements in a range of its modules as well as to accelerate the verticalization of the software. As an independent public company, this increased level of spending would have depressed margins and earnings and potentially negatively affected its share price. The incremental R&D spending barely registers as a blip as a part of Oracle.
NetSuite also has been investing in speeding the delivery of value to new customers. Its SuiteSuccess program includes pre-built industry-specific workflows, dashboards, key performance indicators and configurations as well as localizations for countries outside the U.S. The objective is to enable customers to shorten their time to value (NetSuite's objective is to cut this to as little as 45 days — although that's likely a bare-bones deployment), reduce implementation costs and support higher-quality implementations. Beyond the benefits of lower cost, fast and efficient deployment of software can lower the perceived risk of business disruption that almost always accompanies changing over ERP systems.
With respect to sharing applications, Oracle NetSuite recently announced that it was offering planning and budgeting in the form of a version of Hyperion Planning and Budgeting. It, too, includes industry-specific models and practices. A dedicated planning and budgeting application is a useful alternative to desktop spreadsheets, which our Business Planning benchmark research finds is used by 70 percent of companies across a range of business activities, such as supply chain (80% of participants use spreadsheets), budgeting (65%) and sales forecasting (63%). Oracle NetSuite's software enables companies to plan in a more collaborative fashion. Financial planning and analysis groups can use the software to make budgeting easier for budget owners. Our research also determined that companies that integrate all plans by directly linking planning data on a single platform such as NetSuite's are much more likely to have a process that works well (66% of participants) than those that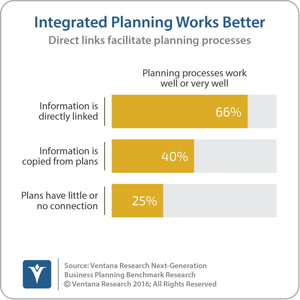 have indirect links through, for example, copying and pasting data from one system or spreadsheet to another (40%) and those that have little or no connection (25%).
Retaining NetSuite's culture, especially its relationship with its customers, has been a point of sensitivity with customers from the date the merger was announced. So far, from the outside it looks like Oracle has met this objective. At the same time, Oracle NetSuite, like many cloud software vendors, must develop new strategies and processes for customer success and enhancing the customer experience. Efforts at customer success are aimed mainly at streamlining the process of initially going live and minimizing the potentially disruptive impact of periodic updates. This is, as the saying goes, necessary but insufficient. A vendor's objective should go beyond not losing customers — the goal should be to delight them. Customer success should be measured by customers' desire to increase the scope and depth of the software and related subscription services they purchase from the vendor.
While there was nothing spectacular on display at this year's SuiteWorld, there was ample evidence of the value that the combination of Oracle and NetSuite has brought to the latter's business. Mid-size companies, especially fast-growing ones, periodically (at least annually) assess the ability of their ERP system to support their business. I recommend that those looking to replace their system evaluate NetSuite.
Regards,
Robert Kugel
SVP & Research Director